No one deserves to be stuck and figure out how to deal with racism in the workplace he is facing.
Your job is your reward for all the hard work you did to get it. Don't let it be a place where your mental health gets affected.
There is a preserving cold war going on regarding racial discrimination since history.
From April 2015 to March 2020, the number of hate crimes motivated by racial discrimination across England is 71,251.
Overall, racism is one of the biggest reasons for disputes within many countries.
12 Ways For How To Deal With Racism In The Workplace
Aren't you tired of being treated differently just because you belong to a different race?
Achieving your goal is much easier belonging to an accepted race. However, the unaccepted races are treated unfairly in the majority.
Let's look into some of the ways how you can deal with racism at work.
1. How To Deal With Racism In The Workplace? – Awareness of Rights
Every country has different work laws against racism. Knowing your rights can help you speak up with valid facts at work.
It is your right at the workplace to be treated equally. Furthermore, it is your right to be justified and feel safe at the workplace.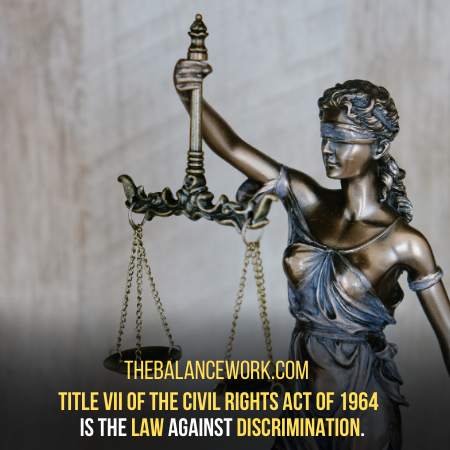 Remember your rights at work when you are facing racism. You should always have legal ways to defend yourself.
Dealing with such a situation with a legal threat is often very important. It makes the next person take you more seriously.
2.

How To Deal With Racism In The Workplace? –

Let it be known
If you are getting racially abused at the workplace, it results in a lack of motivation.
Lack of motivation decreases your productivity at your workplace.
Indirectly everything would affect your mental health. To prevent this from happening, address your higher management at work.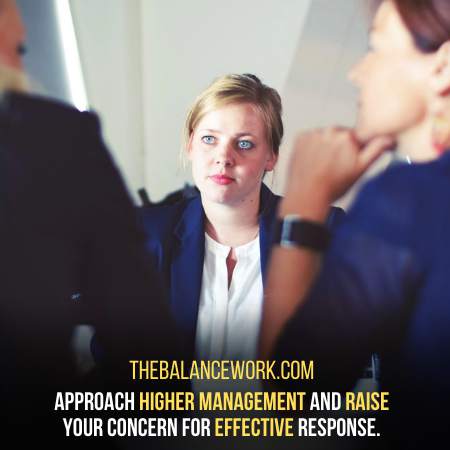 Racist culture starts to breed as you let one racist comment slide.
The trail eventually starts as you turn your blind eye to a small incident that made you feel uncomfortable.
Be vocal about the misconduct due to the discrimination happening.
Let them know that it is morally, socially, and physically affecting your confidence at the workplace.
3. Not Acting like Its Okay –

How To Deal With Racism In The Workplace
No one has the right to make you feel less of anything because of your race. Do not let anyone be comfortable disrespecting you.
Speak up, be loud and be clear with your point directing them to stop treating you differently due to your race.
You must respect yourself to be respected by others.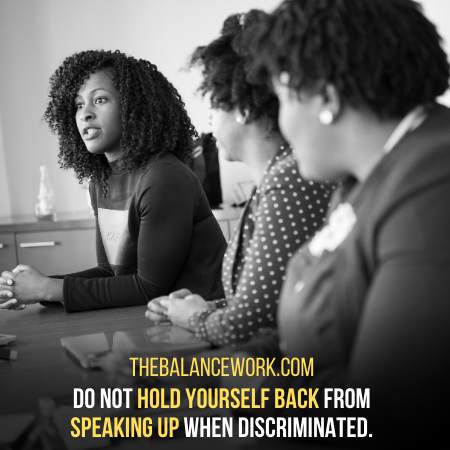 If people are giving you hate on you due to your race, they are disrespecting the entire culture from which you belong. You should address the next person of their acts.
Try making it visible to the person that you are getting offended by his actions.
4. Be Aware Of The Fact That The Racist People Are Lacking Behind
This is an era of revolution. Racist individuals are lagging way behind due to their narrow mindset.
History has set certain stereotypes that people still stick by.
Often a lot of individuals have a hard time accepting the new thought process of the cultural change.
5. Wondering

How To Deal With Racism In The Workplace?

Communicate Well
Communication always solves issues. Let the people know about your cultural values.
Advocate your sentiments attached to your race.
What may be normal, in your consideration, might be very weird for them.
If they end up showing racism out of naiveness, it is crucial you educate and correct them.
By educating and correcting, you did your part to bring the change of acceptance.
The rest is up to them if they are willing to respect your race and its values or not.
6. Remember That There Is Absolutely Nothing Wrong With You:
There is no need to feel bad about yourself to be born different.
Know that you are just as capable and smart as any white person near you.
Make use of your opportunities that are wide open for you. Do not hold yourself behind due to other people's toxic mentality.
Approach people with confidence and let them see that they need to be more acceptable.
Do not feel the need to go back into your shell of fear. You need to step out of it.
Turn the hate due to you being born in an unacceptable society into your motivation.
Remind yourself that there is only going forward were an extraordinary achievement is waiting for you.
7. Request An Anti Racism Training Program In Your Company
If you are a target of racism at work, suggest anti-racism training programs to your HR department.
It is crucial that the program is not conducted just to tick the box but to make a difference.
The anti-racism training program should answer why the staff should accept diversity.
For building a healthy atmosphere at work, it is important to focus on a set of core values.
8. Ask The Firm To Keep A Strict Company Policy Against Racism
The anti-training program is not enough to shift the entire company's behavior. This is because racism exists in the upbringing of people and their nature.
To permanently deal with racism in a workplace, apply for jobs having strict policies embedded against racism.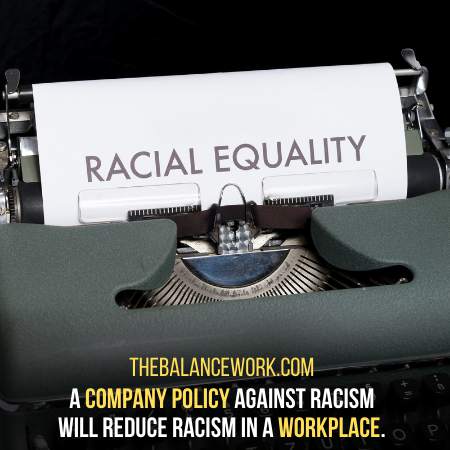 The company should keep consequences against violation of the company's policies.
Setting serious consequences against violation of company's policies will make employees think before they act.
9. Keep A Thought Provoking Cross Questioning Strategy With Your Racist Colleague
Often you would be in a conversation with someone and, they suddenly pass a racist comment.
Chances are you ignore it and carry on with your conversation.
Well, you need to change this approach. Cross question the next individual with a thought-provoking question.
Make him realize the immature act he just commited.
Question him in the middle of the conversation and ask exactly what made you feel comfortable saying that to me?
By doing this, it gives you the power in the conversation and forces the other person to take accountability. In short, let him know he can do better.
10. Request HR For Respectable Catering Events For Every Race
The work environment should be suitable for a person belonging to any race or religion.
The catered event should offer multiple meat options due to the dietary restrictions in some religion and races.
Furthermore, request HR to honor and keep respect towards everyone's religious holidays.
It is mandatory to allow an individual a leave upon their respective holiday.
11. If Nothing Seems To Work, Reconciling Is Always An Open Option
When you have addressed all the above problems to the management, shake things off. Be optimistic and start fresh.
Try to overcome your fears and fight. To change things, you have to change yourself.
Learn to balance your work despite the narrow-minded people. You will find such people existing everywhere in society.
If you know you are right, other's rights should not bother you.
12. Moving On Will Help

 To Deal With Racism In The Workplace
You have tried solving the issue and, nothing seems to work. The job you are currently at only seems to drain your energy and disturb your vision.
Moreover, the environment at work is destroying your code of ethics. If your every option seems to be blurred out then, quit.
You do not need to allow yourself to be suck at the same spot forever. You need to accept the fact that you got better opportunities and move on.
Conclusion
Surviving is constantly avoiding the trigger. When you belong to a certain unacceptable race or minority in civilization, you get disliked by many.
Know that you can and, you will get the life for which you have been trying.
People who throw hate upon you because of your race do not know better. It might be difficult to manage the setup stereotypes by the people.
However, your lowest moments due to you losing sight of your purpose will give you wisdom.
The unique wisdom you get with such experiences helps you cope with many other scenarios. Embrace it all!
Share your thoughts in the comment section below.
Last Updated on 3 years by Shahzaib Arshad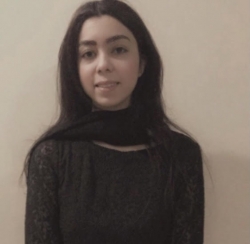 Latest posts by Hania Saleem
(see all)