Interview outfits for women can be tricky. You want to look professional, but you want to look like you need to try harder.
And you don't want to wear something that will make you sweat throughout the interview.
9 Interview Outfits For Women
To ace your next interview, take a cue from these ideas and put together an outfit that radiates confidence and is within the interview ethics:
1. A Tailored Suit:
When in doubt, go with a classic black suit. It's always appropriate and makes a strong impression. Plus, you can wear the jacket and pants separately later on.
A suit is also a good opportunity to show off your style. If you prefer, wear a navy or gray suit instead of black.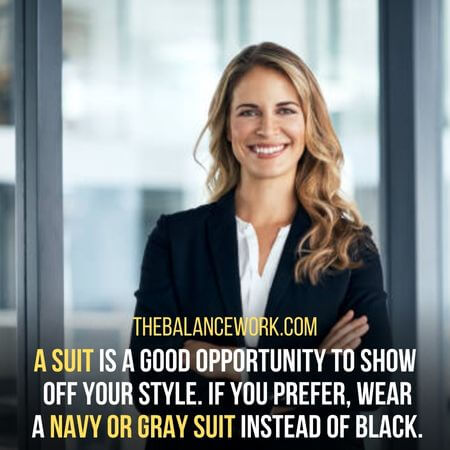 Just make sure the fit is perfect. Nothing looks worse than an ill-fitting suit.
Some women worry that a suit makes them look too masculine. Not true!
You'll look polished and professional if the fit is right.
2. A Skirt Suit:
Suppose you're not comfortable in pants, no problem. A skirt suit is just as appropriate and looks great on all body types.
Again, make sure the fit is impeccable. The skirt should hit you at the knee or slightly below. And the jacket should nip in at the waist to create a flattering silhouette.
With a skirt suit, you can have a little more fun with the blouse underneath.
Opt for a pop of color or a pretty print to add interest and personality to your look.
3. A Sheath Dress:
For a more feminine look, try a sheath dress. This type of dress is form-fitting and usually made from lightweight fabric.
It's the perfect choice for an interview in a creative field. Pair it with a blazer or cardigan, and you're ready.
A sheath dress is also a great option for post-interview drinks or dinner. Then, ditch the jacket and add some fun jewelry.
4. A Button-Down Shirt:
A button-down shirt is always a good choice if you're interviewing for a more traditional role.
Opt for a classic white shirt or something with a little more personality.
Pair your shirt with a skirt or trousers in a complementary color. Add a blazer to complete the look.
Also, when in doubt, always err on being too dressy rather than casual.
It's better to be over-dressed than under-dressed for an interview.
5. The Perfect Pair of Jeans:
Jeans are usually a no-no for interviews, but there are exceptions to every rule.
Jeans might be appropriate if you're interviewing for a position at a more casual company.
Opt for a well-fitting, dark-wash pair of jeans. Avoid ripped or distressed denim.
Pair your jeans with a nice blouse or blazer, and add some jewelry to dress it up.
Jeans can go wrong with an interview outfit very easily. So make sure they fit well and that you style them appropriately.
6. The Little Black Dress:
You can never go wrong with a little black dress. They're classic and timeless, making you look put together without trying too hard.
Pair your LBD with some nude heels and minimal jewelry for a polished look.
You can also add a pop of color to your shoes or handbag to make the outfit more interesting.
Your LBD doesn't have to be boring. Also, make sure your dress is short enough for your interview.
You can wear black leggings or pants with a blazer and a nice blouse. This is a great option if you're not comfortable in a dress.
7. The Power Suit: 
A power suit is always a good idea for an interview. It shows that you're serious about the job and that you mean business.
Wear a colored or patterned suit to show you're creative and unique. Ensure the fit is flattering and the fabric is smooth enough.
Wear a white shirt or blouse with your suit, and don't forget to wear closed-toe shoes.
8. The Wrap Dress:
Wrap dresses are a great option for an interview because they're classy and professional. They also show off your curves without being too revealing.
Wear a wrap dress in a solid color with closed–toe shoes. You can wear heels or flats, depending on what's more comfortable for you.
Also, ensure your wrap dress is tight enough and tight enough.
9. A Bold Blouse:
If you prefer it separate, start with a strong foundation. Next, a well-fitting pair of trousers or a skirt in a neutral color will do the trick. Then, add a pop of color with a blouse in a bold hue.
Make sure your blouse is high-cut and revealing. You want to show that you're confident and professional, not looking for a date.
Moreover, be sure to tuck your blouse into your pants or skirt. This will create a clean line and make you look pulled together.
8 Tips For Interview Outfits For Women
Now that we have gone over the basics let's take a look at some specific tips for interview outfits for women.
1. Layer Your Clothes:
One way to look polished and put together is to layer your clothing. This could mean wearing a blazer over your blouse or a cardigan over your dress.
Not only will this add some dimension to your outfit. But it will also allow you to remove a layer if you get too warm during the interview.
Also, make sure that the layers you choose complement each other. For example, don't wear a black blazer with a white blouse. That would look too harsh.
2. Wearing Colors:
While you may be tempted to dress in all black, don't be afraid to experiment with color. Wearing a colorful top or scarf shows you're confident and unique.
Just make sure the rest of your outfit is fairly subdued. You don't want to look like you're going to a carnival!
Also, avoid wearing white. This color can be seen as too casual for an interview.
And avoid wearing red. This color can be seen as too aggressive.
3. The Right Shoes:
Your shoes should be clean and in good condition. Avoid wearing sandals, flip-flops, or any other type of open-toe shoe.
And make sure your heels are at a reasonable height. You don't want to look like you're going out clubbing!
Also, avoid wearing sneakers. This can make you look too casual.
Some good options for shoes include:
– Pumps
– Loafers
– Ankle boots
4. The Right Accessories:
Your accessories should be minimal. Avoid wearing big and chunky jewelry.
And avoid wearing multiple rings or multiple bracelets. This can look too festive.
A good rule of thumb is to wear only one piece of jewelry per outfit.
Some good options for accessories include:
– A watch
– A delicate necklace
– Simple earrings
– A bracelet
5. The Right Purse:
Your purse should be professional looking. Avoid carrying a big and bulky bag.
You want to carry your purse easily without it getting in the way.
Some good options for purses include:
– A tote bag
– A cross-body bag
– A clutch
Also, make sure that your purse is light enough. You want to avoid lugging around a lot of extra weight.
6. Wearing Patterns:
If you wear a patterned piece, ensure it's quiet and quiet. A small geometric print or subtle stripes are good choices.
Again, the rest of your outfit should focus fairly simply on your face and not your clothes.
Also, only patterns that are too small. Tiny prints can be very difficult to see from a distance. And you want the interviewer to be able to see you.
7. Keep It Simple:
When in doubt, it's always best to avoid caution and keep your outfit simple. A classic black suit is always a good choice.
If you're interviewed by someone younger or in a creative field, you can get away with something more funky or trendy.
But if you need more time, it's always best to play it safe.
8. Consider The Season:
If you're interviewing during the winter, ensure your coat is clean and professional.
You don't want the interviewer to remember you as someone who came in with a ratty old coat.
In the summer, pay attention to the fabrics you're wearing. Of course, you want to avoid anything that will make you sweat too much.
Also, wear closed-toe shoes, even if it's hot out.
Final Word:
Interviewing for a job can be a nerve-wracking experience. But to make it a little easier on yourself, pay attention to what you're wearing.
Interview outfits for women should be professional but also reflect your style.
Most importantly, make sure you're comfortable with what you're wearing. If you're not, it will show in your body language and answers to the interviewer's questions.
Last Updated on 3 weeks by Eesha Khan