The term leadership is so vast. And this article is a pure introduction to leadership.
Leadership is an amalgamation of feelings, actions, and operations. It involves creativity, emotions, body, and soul.
Leadership is the ability of a person to influence or motivate others. It brings the best out in people.
According to the introduction to leadership. The focus of leadership is encouragement. To increase the effectiveness of an organization.
The introduction to leadership is about the foundation of mind, body, and nature.
An Introduction To Leadership – Fundamental Elements:
Leadership is often defined as a process where an individual provides direction.
This direction provision is specific for others or an organization. It works to make the organization more coherent and cohesive to work.
Leadership is all about developing people.
It's meant to help them to reach their greatest potential. In the simplest form, it's the art of motivating people to help achieve a common goal.
These definitions must have cleared the concept of leadership in your mind. Yet these are some of the most used definitions of leadership.
Now we will take a comprehensive definition of leadership and break it into parts. So that the definition itself explains the leadership.
What is leadership?
The introduction to leadership says that a leader is expected to do these things:
-He generates a motivating sight or vision of the future.
-Encourages people to involve themselves in that sight.
-Directs to deliver that vision.
-Creates a team for the effective achievement of that sight.
These elements split out from the definition of leadership. Let's take a look at each of these elements.
So that you can know how leadership brings the skills to perform the tasks.
1. Leadership Generate A Motivating Sight Of The Future:
What is the vision? In business terms, sight is the sketch of where we see ourselves in the future. This vision must be realistic, convincing, and attractive.
Leaders look towards the strengths of organizations to generate that sight.
As a leader, you can do PEST Analysis, SWOT analysis, and competency analysis. This way you can analyze the current situation of the organization.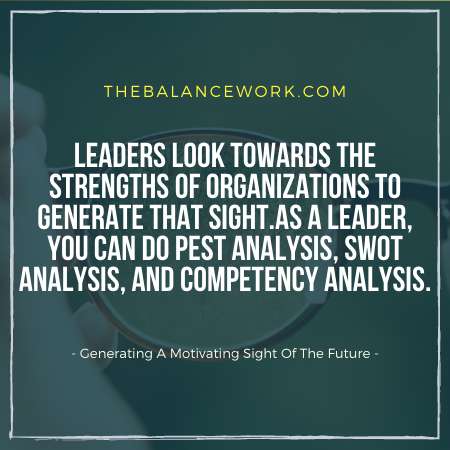 Leaders find out the possible way of how the company can evolve. And what will be the reaction of their competitors?
Leaders keep on finding out ways for successful innovation. Also, they mold their companies and strategies to meet the future needs of the market.
They assess the possible risks by using Scenario Analysis. Timely market research and analysis is a trait of effective leadership.
Leadership uses all these strategies to make solutions. The solutions for the problems even before they occur.
And it helps to keep up with the changing trends of the market.
Thus, we can say that leadership is energetic and dynamic. It consists of problem-solving and seeing forward.
Leadership doesn't contain satisfaction in everything  After developing the sights, leaders must make them attractive enough to be followed by people.
Compelling Sight:
Sight must be visible and understandable by people. It's a vision easier to work on as the people accept it.
Leadership is good when it's able to picturise the future of the company. They do this after their visions get realized.
Leadership is not to make a vision for a short term and work on it. Rather it is to create visions for a lifetime.
Also, to provide everyone with an insight into this vision is important.
Leaders attract people to their visions. They tell them inspiring stories and mention their goals so that everyone finds motivation in it.
Here, leadership merges the logical part of the sight with the shared values.
What it creates, in the end, is meaningful for the people who are following.
2. Leadership Encourage People To Engage With The Vision:
An attractive vision lays the bases for effective leadership.
But still, it depends on the ability of a leader. How he inspires people to help him in the practical delivery of the vision.
A leader should engage in as many talented people in achieving his vision.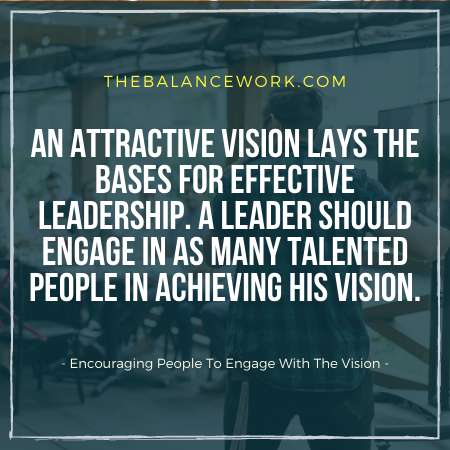 At the beginning of a project, the level of enthusiasm is always high. Thus, it's easier to get success for it in the beginning.
It's always hard to keep the motivation in the vision. After the starting flow of passion fades away.
That too in an organization that keeps on changing its way of working.
Effective leaders know how to cope up with this issue. They work even harder.
To make a connection between their vision and individuals' purpose.
Some of the leaders use the Expectancy Theory for this purpose.
They connect these two dissimilar assumptions.
-The assumption of hard work ending in perfect results.
-The assumption of good results leading to better rewards.
These expectations cause excitement for hard work to get the desired goals achieved.  The accomplishment of these goals leads to rewarding.
These rewards include both intrinsic reward and extrinsic rewards.
Another approach is to describe the benefits. These benefits vision can cause to team's customers.
They make the use of chances for properly conveying their insights.
Expert Power:
Expert power is a helpful factor for effective leadership. Because people put their trust in leaders who are experts.
Due to this credibility and trust, they've earned a right. The right makes them request people to follow and listen to them.
This way it is easier for leaders to bring motivation in people.
Effective leaders also motivate their followers with their magic. Yet, there are other ways of motivating people using different ways of strength.
These sources can be either paying bonuses and assigning work to followers. Yet, good leaders do not depend a lot on this kind of source.
See Also: 12 Major Functions Of Leadership – Detailed Overview
3. Leadership Manage The Conveying Process Of Vision:
This part of leadership shares a strong bond with management. Managing the tasks to deliver the vision in a successful way is important.
As a leader, make sure that there is proper management of work. The work that is in the requirement to make the delivery possible.
Leaders perform this task themselves. Or they can assign this task to a dedicated group of employees.
In the end, it is important to check that the delivery of the vision is successful.
For this purpose, workgroups must have goals linking with vision. Project management and performance management are two ways of achieving this purpose.
So, for the daily management of the vision's delivery. One can use the Management by Wandering (MBA) approach.
This ensures that expectations must turn into reality.
A good leader ensures the effective management of change. Effective management of change is necessary for vision implementation.
Also, when there is proper management of change. The implementation of vision becomes easier.
It happens in a thorough and smooth way.
The assistance of people who get affected is also important.
When stakeholders help in managing the change. It becomes easy to keep up with the change.
4. Leadership Create A Team For The Achievement Of The Vision:
Transformational leaders carry out the activities of an individual or team development.
Leaders should recognize the dynamics of a team for developing that team.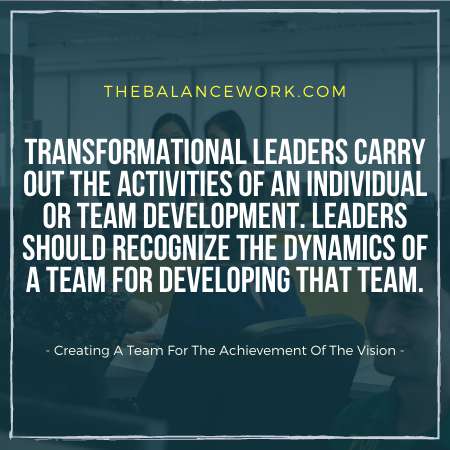 Team Dynamics are unconscious forces. These direct the performance and behavior of a team.
Bruce Tuckman's Forming, storming theory is in use for this purpose.
After the leader knows the dynamics of the team, he knows how to work with the team.
Then, a leader ensures that all the members of the team own the skills. They must be able to do things in a successful way.
The absence of skills in the team would make it difficult for a leader to achieve his mission.
For the attainment of necessary skills, leaders use the feedback approach.
The regular feedback sketches the performance of employees in front of them. So they know where they made mistakes.
One notable thing about leadership is to find out the perspective of leadership in other people.
By developing leadership skills in your group. It's possible to generate success is long-term.
This is a sign of good leadership. 
Introduction Of Leadership And Management – A Misconception:
Leadership is often used for such individuals who are in actual managing. This is a major misconception.
These two concepts i.e. leadership and management are different altogether.
Managing people can be very skilled and perfect to do their jobs. But this doesn't certify them as good leaders!
While using these terms you need to be careful.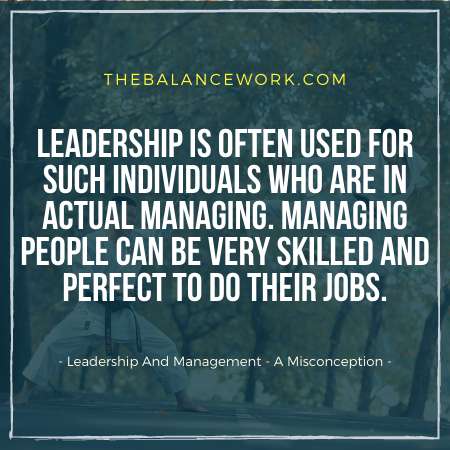 There are people out who create confusion by calling themselves, leaders.
Even groups call themselves "leadership teams". But these aren't generating and giving change in reality.
The disadvantage here is about the individuals who think that they're following. While in actual they're not following a true leader.
The leadership may not exist here. And they may not be delivering a change.
This can lead to a bundle of disadvantages.
Conclusion
After looking at the introduction to leadership. We can conclude the following things.
It's a difficult task to define leadership and it's different for different people. Everyone in an organization might have their definition of leadership.
But the meanings of all these definitions are the same. That is leadership is to lead and take responsibility.
In the model of transformational leadership, leaders set the direction. The purpose is to provide assistance to everyone.
They do so to know what is right and wrong to advance in the future.
To set this direction, they create a vision that is inspiring itself. But they also keep on adding motivation for others to achieve the vision.
Leadership is to manage to deliver the mentioned vision. This happens either in direct or indirect ways.
Besides all this, leadership also builds and coaches the team to be stronger.
That's all about the introduction to leadership. And it's good to be a part of this drive.
Leave a comment to share your thoughts on leadership.
Last Updated on 3 years by Shahzaib Arshad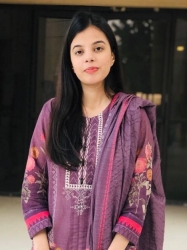 Latest posts by Assma Riaz
(see all)