Despite this fact that business degrees have an increasing demand. Some people still ask this question. Is a business degree worth it?
There is a rapid increase in the popularity of business degrees.
In today's era, the growth of jobs is increasing in areas of finance, marketing, and management. And there is no doubt in it that business degrees are the most pursued degrees in universities.
Is A Business Degree Worth It? – Requirements To Getting One
After spending a lot of time and money, will it do justice? There are many other questions related to it.
Here's a closer look at what is a business degree. What it takes to earn it. How it can be beneficial to you?
What does a "Business degree" means? When someone in your surrounding talks about a business degree.
A question must have popped up in your mind. What is a business degree in actual?
It's a bachelor's degree that provides knowledge of all business functions. The knowledge is of a foundational level.
It can be a degree in business management, business administration, and leadership.
Other degrees in business are with specialization in a single area. These are accounting, finance, marketing, or human resources.
All these are the technical business degrees, yet a bachelor's in business is a very flexible program.
Working professionals advancing in their careers, a business degree is a good option.
What do you need to earn a business degree? If you are looking to earn a business degree, you will have to invest time, energy, and finances.
Let's discuss these elements in a row for a thorough understanding.
1. Time To Spend On Business Degree:
There can be a wide variation in the amount of time you need to spend on your business degree. For getting your bachelor's degree in business, you will need 124 credit hours.
In the case of credit hours, this counts for a four-year degree. A traditional student will have to spend four years to earn his degree.
In the case of working professionals, graduation time depends on the course load.
Have you researched about business degree program that can maximize your previous education? Which can increase your experience and help you to get a degree faster?
2. Energy To Spend On Business Degree:
Getting your degree is not all about the time commitment. You will have to focus on your degree program to be successful.
It means you need to make a change in professional and personal life to make space for a degree.
You should keep it in mind that your personal and professional life don't mess up with the studies.
When taking courses online, you need to take your responsibility on your own. You will have to check for yourself.
For this purpose, you can create your own structure and schedule to empower your success.
3. Finances Required To Get Business Degree:
There too can be a wide variation in the cost of a business degree. The tuition prices can be shocking. But often the advertised prices aren't what you have to pay in actual.
Most of the time, online universities charge a cost per credit hour. In case if you are transferring in credit, then it might decrease the cost.
You can also seek help from financial aid or scholarship programs.
After a solid understanding of costs, you should ensure your means to pay for your degree.
And remember, a degree is a lifelong investment that pays for itself in the long run.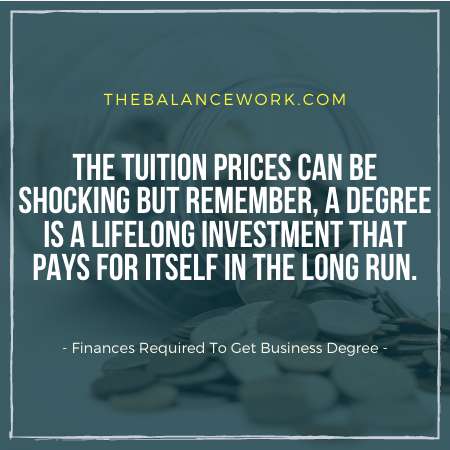 Benefits Of A Business Degree – A Detailed Overview:
Besides gaining the academic background in business as the foundation for a career. There are many potential advantages to getting a business degree.
These advantages will tell you is a business degree worth it.
1. Higher Expected Salary:
One of these upsides is the higher expected salary. Research conducted in Canada proves that business graduates were the highest earners.
Payscale.com says that an MBA in strategy is the 5th highest paid degree. While a degree in business and information technology has the 18th rank.
2. Greater Industry Range:
Another advantage is that business functions exist across many industries.
Business is such a vast field that you can find it in every aspect of life. It is functional in almost every industry running in the world right now.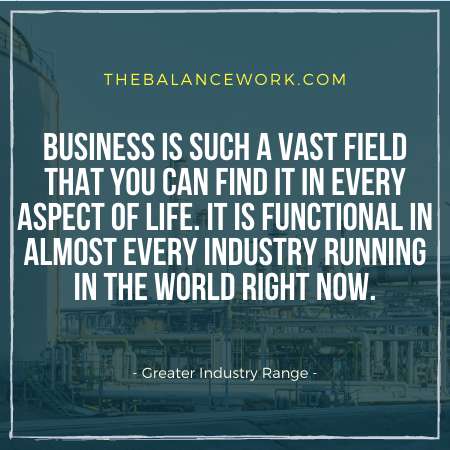 Industries of information technology, advertising, and media fall in this category. Also, fast-moving consumer goods and health-care requires business graduates to fill business positions.
This benefit is worth considering if you're looking for flexibility in your career.
3. Wide Network To Find Jobs:
A business degree can help you to stand out while looking for jobs. This is because of wide networking.
Business degrees help you to widen your area of networking by connecting to lots of people. Institutions help their students to connect with their professors and mentors.
These mentors can play an important role in an individual's future.
Most of the business schools offer career or placement services. They do this by collaborating with different businesses or companies for job fairs.
See Also: Classification Of Business – A Complete Guide
What Are The Typical Careers With A Business Degree:
Good business and management skills are the key elements of any profitable company.
So effective leaders, strategic thinkers, and financial experts are always in demand.
Big or small, global, or local companies all over the world are looking for business graduates.
Here are some of the most typical careers in the business field:
1. Business Careers In Accounting And Finance:
If you're looking to pursue a career in accounting and finance. You will have to go for higher qualifications.
If you decide to go into accounting or finance career. Your job will revolve around reviewing your company's financial situation.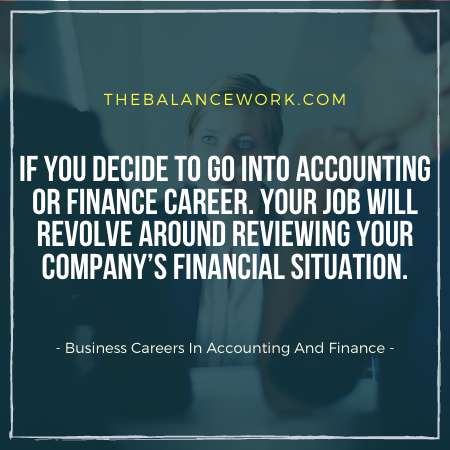 You may have to tell clients and colleagues on tax and expenditure.
Also managing records and business transactions. And taking responsibility for preventing fraud and negligence would come under your job.
2. Business Careers In Management:
Managerial roles are highly-paid despite heavy responsibilities.
Managers exist across all industries and fields. And their job is to make the structure and strategy of a workplace.
Because of the responsibility of such positions. Managers will first gain a further degree. And an experience of many years.
3. Business Careers In Consultancy:
Another appealing field is of business consultancy. This job includes a combination of your business expertise and analytical skills.
So that you can provide advice to others.
Projects and clients may vary, which means plenty of new challenges to deal with.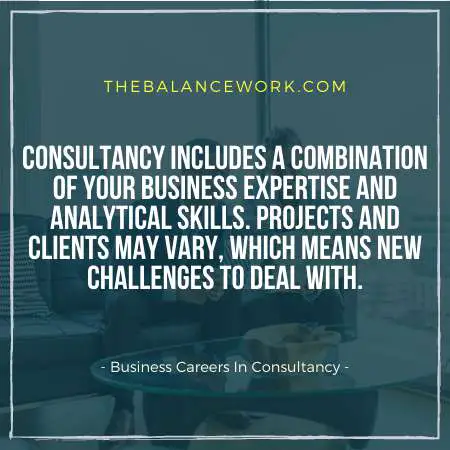 By combining your business knowledge with another field of interest. You may specialize in a particular type of business.
4. Business Careers In Retail And Sales:
If you have a business degree then there are many opportunities for you in retail. There are shop-based and office-based jobs.
If you have a good knowledge of the global market, then you can make your position in traveling jobs too.
If you want to pursue higher positions in retails and sales. Then there are certain companies that offer a graduate trainee program.
These programs can fast track your position in the company.
This way you can get a good on-the-job experience along with your commercial skills.
What Are Graduate Degrees In Business?
There are lots of people who complete a bachelor's program in a different field of study. And then they get an MBA in a business career.
MBAs have become common among job seekers. But before choosing an MBA program, you should do proper research in specializations.
And find something that you have an interest in. So it'll be worth your time and money.
Education has its own set of benefits. Still, if you're investing time and money on a degree program.
You should make sure that it satisfies you with the most benefits.
By having a look at the current statistics of wages, you can decide about your education. And you can make an informed decision about your future in the world of business.
What Other Careers You Can Pursue After Studying Business:
A business degree doesn't bound you in its walls. After earning a business degree, you can still go to other industries to start a career.
Once you get the degree, you will know the answer to "Is a business degree worth it?"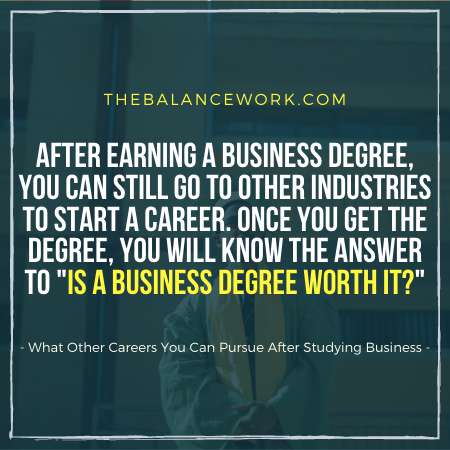 Many successful people have degrees in communication, psychology, or information technology.
There are many people out in the world who have interdisciplinary degrees. Some of the fields which can get merged with business are:
1. Communication
2. Broadcasting
3. Graphic designing
4. Journalism
5. Information Technology
6. Environmental sciences
All these areas give you more knowledge than an average business graduate would have.
Also, you will get such skills that set you apart from the crowd. Jobs in advertising requires interdisciplinary training and skills. And this combination of degrees would help you there.
Jobs in accounting, finance, and management also need specialized skills. And you won't learn these skills in generic business degrees.
Conclusion – Is it worth it?
From all the above discussion in this article, we know that there are many benefits of a business degree.
But still, the question remains. Is a business degree worth it?
According to a survey, 70% of the respondents when asked this question. They said they would recommend doing a business degree when prompted. It took an average of 3 seconds to respond.
In the end, the person who can give you the best answer is you. For the answer, you need to identify your goals and figure out your priorities.
Once you recognize your goals and priorities. It will be clear that you should pursue a business degree or not.
Leave a comment to share your thoughts.
Last Updated on 3 years by Shahzaib Arshad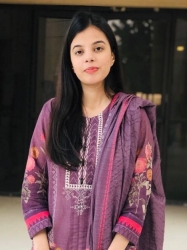 Latest posts by Assma Riaz
(see all)