What is a remote interview? A remote interview is conducted over the Internet, usually through video conferencing software.
This type of interview has become increasingly popular in recent years.
What Is A Remote Interview? 8 Characteristics
A remote interview is just like a regular interview, except it is online. You get to meet your interviewer(s) virtually.
And you answer their questions from the comfort of your own home (or wherever you choose to do your interview).
Here are some characteristics of a remote interview:
1. Types Of Remote Interviews:
There are two types of remote interviews: video and audio. Video interviews are conducted over Skype, Google Hangouts, etc.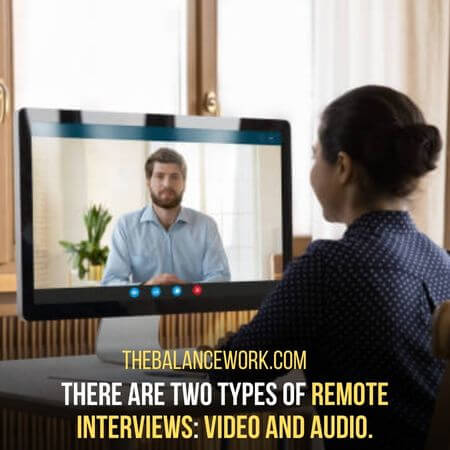 You will see your interviewer(s), and they will be able to see you.
Audio interviews are conducted over the phone. Or it may be through a VoIP (Voice over Internet Protocol) program like Skype.
You will not be able to see your interviewer(s), but they will be able to hear you.
2. Video Conferencing Software:
There are many different types of software that you can use for a remote interview.
Some of the most popular ones include:
2.1 Skype:
It is a software application that allows you to make voice and video calls over the Internet.
Powered by Microsoft, Skype is one of the world's most popular video conferencing software. It has over 300 million users.
2.2 Zoom:
Zoom is a cloud-based video conferencing platform. It offers HD video and audio quality.
It has gained popularity in recent years for its user-friendly interface.
And it has features like screen sharing and recording. And it also offers a free plan for personal use.
2.3 Google Hangouts:
It is a communication platform that includes instant messaging, video chat, and VoIP features.
Google develops Hangouts. It's available on various Android, iOS, and web browsers.
So, these are some of the best video conferencing software for remote interviews.
3. A Working Audio & Video Connection:
A good video and audio connection are one of the most important things for a remote interview.
You want your interviewer to hear something other than static or see your image freezing on their screen.
To ensure a good connection, test your internet speed. Also, make sure you have a strong and stable connection.
You can use sites like Speedtest.net or Fast.com to test your internet speed.
You should also use a wired connection instead of Wi-Fi to avoid any dropped connections.
4. Dress The Part:
Just because you're doing a remote interview doesn't mean you can dress casually.
You should dress just as you would for an in-person interview. This shows that you're taking the interview seriously and want to make a good impression.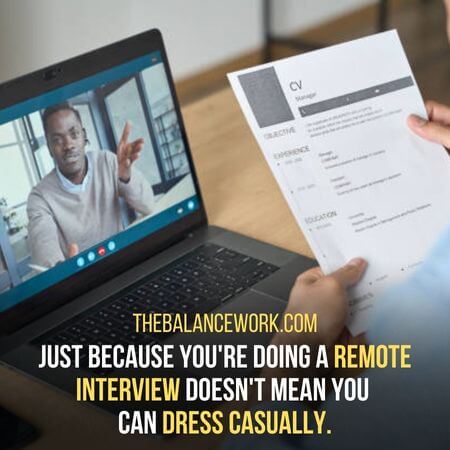 Some outfits you can wear for a remote interview include:
– A business suit
– Dress shirt and tie or even
– Dress in slacks and a blouse.
5. Get Rid Of Distractions:
Distractions can come in many forms. It may be pets, children, roommates, doorbells, and phones.
To avoid distractions during your interview, ensure your pets are taken care of.
Put your phone on silent. And if you have roommates or children, let them know that you're not to get disturbed during this time.
6. Set Up Your Technology:
One of the most important aspects of a remote interview is having the right technology set up.
This includes having a strong and stable internet connection. Also, it includes a quiet place to sit and a laptop or desktop computer with a webcam.
You'll also want to ensure your computer's battery is fully charged or plugged in. This way, you don't have any interruptions during the interview.
7. Well-lit Area:
It's important to make sure you're in a well-lit area. This is so the interviewer can see you clearly on the webcam.
If necessary, set up a lamp near your computer, so you're not in a dark room. When you're in a well-lit area, it also makes it easier for the interviewer to read your nonverbal cues.
8. Verbal & Non-Verbal Cues:
Be aware of both your verbal and nonverbal cues. Just because you're not in the same room as the interviewer doesn't mean they can't pick up on these things.
For example, you start fidgeting. It may come across that you're nervous or not interested in the position.
Or you have poor eye contact. The interviewer may think you're not being sincere. Practicing in front of a mirror can help you become more aware of your verbal and nonverbal cues.
6 Advantages Of A Remote Interview
Remote interviews have several advantages. However, with their rise in popularity, it's important to know how to make the most of them.
Some advantages include:
1. No Location Restriction:
Regarding location, there are no boundaries with a remote interview. You can interview from the comfort of your home or even from a different country.
Why is location important? It allows you to get interviewed by companies in different parts of the world.
Many companies outsource and have employees in different states or countries. This is the perfect opportunity to show them you're willing to work remotely.
2. Saves Time:
Time management is key in any job. Imagine saving time by not having to commute to an interview.
You no longer have to worry about getting caught in traffic or late.
Time costs money. You are saving the company time and money by conducting a remote interview.
Some interviews get canceled due to the interviewee being unable to make it on time. This can be frustrating for both parties.
3. Helps to Narrow Down the Field:
Let's say you apply for a job in New York but live in California. The company may want to know about your qualifications. But they may want to avoid paying for your travel expenses.
By conducting a remote interview, the company can get to know you without travel expenses.
A remote interview also allows the company to interview people from all over the world. This helps to expand the pool of candidates that they can choose from.
4. Helps You Save Money:
As mentioned above, a remote interview can help you save money on travel expenses.
If you are the one who is doing the interviewing, you can also save money on office space. You won't need to rent a conference room or an office for the day.
And some companies will even pay for your Internet and phone expenses. With a remote interview, there are fewer expenses for both the company and the candidate.
5. You Can Interview More People:
With a remote interview, you can reach a larger pool of candidates. And because the interview process is shorter, you can interview more people.
This is especially helpful if you're looking to fill a position in a remote location.
You can also use a remote interview to screen candidates. Then, you invite them to an in-person interview.
Some companies use a remote interview as the final step in the hiring process.
6. Covid-19:
The outbreak of Covid-19 has made remote interviews even more popular. With the virus causing uncertainty, many companies are conducting all their interviews remotely.
This helps to protect both the interviewer and the candidate from exposure to the virus.
It also makes it easier to interview candidates from all over the world.
5 Disadvantages Of Remote Interviews:
There are some drawbacks to conducting interviews remotely:
1. No Personal Connection:
It can be harder to build a personal connection with someone when you're not meeting in person. This can make it difficult to get to know the candidate. You may need a better sense of their personality.
Some people are also more comfortable communicating in person than on the Internet. This can make it harder for them to express themselves. Thus, they can not connect with the interviewer.
2. Technical Difficulties:
There can be technical difficulties with audio or video quality. It can make it difficult to understand the candidate.
There may also be delays in communication. This can make it difficult to have a back-and-forth conversation.
Some people need to become more familiar with technology. This can make it difficult to use the tools.
3. Time Zone Differences:
The interviewer and candidate may be in different time zones. Therefore, it cannot be easy to schedule a time that works for both of them.
When scheduling follow-up interviews, it's difficult to account for different time zones.
With an in-person interview, you can usually reschedule if there is a problem. However, it may be more difficult to do this with a remote interview.
4. Limited Body Language:
You can only see the other person on a screen in a remote interview. This can make it difficult to read their body language.
You can't see if they are fidgeting, rolling their eyes, or looking at their watch.
So without verbal and nonverbal cues, it can be difficult to determine how the interview is going.
5. Distractions:
You may be in a quiet room. But there are always potential distractions when working from home.
Your dog may start barking. Your doorbell may ring, or your kids may come home from school.
You need to be ready for anything and everything when doing a remote interview.
Final Word:
So what is a remote interview? It is an interview conducted over the phone or via video chat.
It can be difficult to read body language, and there are potential distractions. But if you are ready, a remote interview can be a great way to land a job.
Last Updated on 10 months by Shahzaib Arshad