Are you one of the two parties in a lawsuit? Then you will definitely need to hire a litigation lawyer.
Litigation lawyers can give you expert advice. They can analyze your situation in the lawsuit. And guide you about the most possible relief you can claim.
They are also able to tell the possible defences the other party can use.
To sum up everything in a single sentence. We can say that a litigation lawyer protects our rights.
What Is A Litigation Lawyer – Do You Need One?
You must be wondering why to get the services of a litigation lawyer.
This article will help you in discovering all the reasons.
1. Difference Between A Lawyer And A Litigator?
Classifying there are two categories of lawyers.
One is the transactional lawyers and the other are litigation lawyers.
Transactional lawyers will help you in drafting a contract. But the litigation lawyers will help you in enforcing it.
In any case of breach of the contract, you will need the help of the litigation lawyer and not the former one.
Trials are the most crucial part of the whole process of litigation. They are the last chance to prove your point before the judge.
These lawyers are always ready for the trial. They are well-trained to argue before the judge.
2. The Job Of A Litigation Lawyer:
If you have a good litigator. Who knows to play in the court, he will secure your claims with a strategic approach using the rules of law.
A litigator is responsible during the whole course of legal action. From filling a lawsuit to proceeding it till the defendant gets his claims.
A litigator is well-aware of the city as well as the criminal procedures.
He knows when to start the proper procedure of litigation to get the required response.
He must complete his trial within the given time.
In case you miss an important deadline. It may lead to the dismissal of your case.
See Also: 5 Most Important Role And Types Of A Stakeholder
3. When Did You Need To Hire A Litigator?
Now we will discuss some cases.
You need a litigation lawyer when you become a part of a business contract.
If some other partners may violate the agreement. Which could lead you to financial loss. Then you may need to get the help of a litigator.
You may be a part of a landlord/tenant relationship. This is also a business relationship and you need litigation.
If any of the party violate, you claim your rights with the help of litigator.
Other than monetary losses. You can also be a victim of some personal injury.
Someone may harm you in the workplace. You may encounter a road accident.
All these cases need the proper guidance of a litigator.
4. Qualities Of A Good Litigation Lawyer?
You must take care of while hiring a professional.
The litigator you are hiring must have experience in the respective field.
The judge can even inquire about some rule of law. A litigator has a firm grip on all the legal concepts.
He can argue before the court to claim the most benefits. You can only claim your right.
When you know what are your rights. A litigation lawyer can give you valuable information in this respect.
He can advocate your position in a lawsuit.
A litigator must have some in-depth knowledge of all legal issues.
He should analyze your problem and identify all the legal issues involved in your case.
Only then he would be able to advocate your position in the court.
A litigation lawyer is your representative before the court.
During the legal course, he keeps in mind the best interests of his/her client.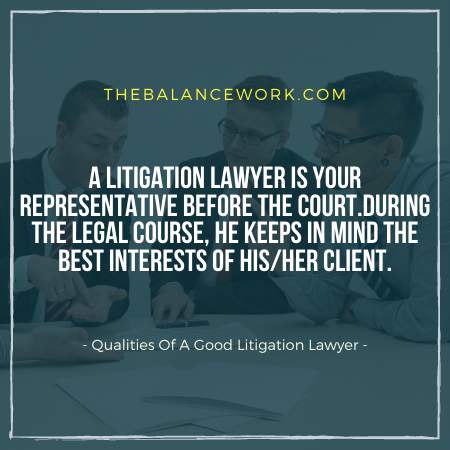 5. Before Filing A Lawsuit:
When you want to file a lawsuit. You have to go through some proper legal channels.
Your lawyer will help you steer through the legal channel. He will guide you about all the processes.
That takes place during the course of legal action. Every case is unique in its way.
It may contain some new and important facts. Which you should consider while claiming relief.
The litigation lawyer tells you how these new facts can impact your case.
Are they in your favour? Or they make your case weaker in the court. Your lawyer can assess the strengths and weaknesses of your case.
A good litigator has specialized in appellate practice.
If you are deciding to file a lawsuit. Your main focus should be to cut costs. And maximize benefits.
You should seek the legal help of an experienced litigator.
He keeps you informed of the progress of your case. And always keeps you in a loop.
He communicates settlement offers and guides you. If it goes in your best interests.
They are two ways of litigation attorneys.
They either charge you by hours or they charge you a flat rate.
In the case of hourly bills. You receive an invoice and you have to pay hourly.
In case of some certain common matters. A litigation lawyer can also give you a legal opinion.
6. Mediation And Settlement:
Not always going to trial is the solution. It may seem a fascinating solution. But it is not always is the case.
Sometimes going into a trial may cause you more harm than benefits.
A litigator can take care of your interests. Even if a trial should proceed. This process of trial is quite burdensome. But the right lawyer can make this process very easy.
The cases may be of civil or criminal nature. Civil cases may also be of commercial nature.
They consist of a contract between two private parties. One party may have violated it.
A dispute of civil nature may settle through negotiation or mediation. But on the contrariwise.
Criminal cases are brought against you by the State. You may face some serious consequences.
You may be even sentenced long imprisonment or some heavy fine.
7. Role Of A Litigation Lawyer:
A litigator can protect your best interests by handling your dispute.
You should keep in mind. That lawyers are not ordinary lawyers. They are only experienced in this field.
Rarely the take ordinary civil disputes. And have a solid experience for over some years.
They know how to represent their client. Litigation can be a costly process.
It may even exceed your claims and benefits. But the right lawyer can save you a lot of money.
8. Pre-Trial Motion:
They refrain from unnecessary litigation. And adopt a strategic approach.
They draft pre-trial motions. They try to avoid every possibility of harm. Sometimes they resort to mediation.
Your lawyer can also guide you during this process. Pre-trial settlements are sometimes the best way to a solution.
A litigator negotiates with the opposing party. To gain your most benefit out of it.
It may also be beneficial in a way. That litigation process is so lengthy and complicated. And it may cause you more harm than benefit.
Conclusion
It does not always mean that you will certainly file a case. Litigators have special instruments.
Which can help you before going into the trial process? Sometimes out of court settlements can guarantee you a fair result.
If you are looking for the best compensation in a business or personal dispute.
You must consider hiring a litigation lawyer. Or get some legal advice from an experienced litigator.
They will guide you with your possible claims. And they can guide you on how to present your case.
So that you may have the decision of the judge in your best interests. That's all you need to know before filing a legal suit.
Hope this article helped you in getting an in-depth view of who is a litigation lawyer. Please give your feedback in comments.
Last Updated on 3 years by Shahzaib Arshad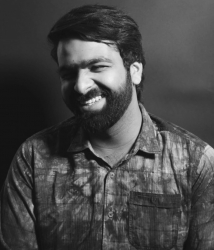 Latest posts by Shahzaib Arshad
(see all)