What to wear in a remote job interview? A professional outfit is not necessary for a Zoom job interview. But you should still take the time to look presentable.
Your outfit should be based on the job you're interviewing for.
10 Things To Wear To A Zoom Job Interview
You could go for a more relaxed look if it's a creative role. But if you're applying for a corporate job, you must dress the part.
Let's discuss tips to help you figure out what to wear to a Zoom job interview.
First things first, it's important to remember that first impressions matter.
Even if you're not meeting your interviewer in person, they will still be able to tell what kind of effort you put into your appearance.
1. Wear Neutral Colors:
Colors are more enhanced on Zoom than they are in person. Wearing a brightly colored shirt or patterned dress can distract your interviewer.
Instead, stick to neutral colors like black, white, navy, or gray. This will allow your interviewer to focus on what you're saying, not what you're wearing.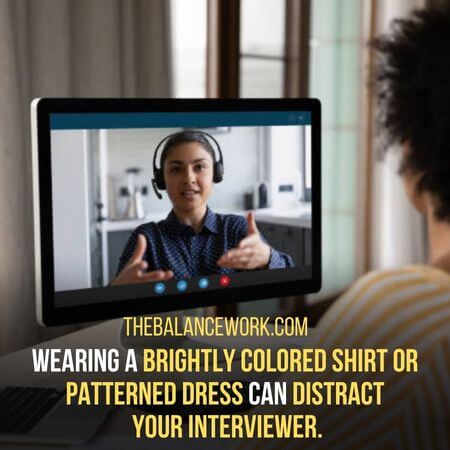 And with such a limited color palette, you can't go wrong. Your interviewer will appreciate your professionalism.
2. Pay Attention To The Fit:
Since you'll be on camera, ensuring your clothes are well-fitting is important.
Loose or baggy clothing can make you look sloppy. And tight clothing can be uncomfortable and unflattering.
Opt for clothing that is comfortable and gives you a polished look. The camera angle may put extra emphasis on your shoulders and chest.
So make sure your clothing fits well in these areas. And they say the camera adds 10 pounds.
So, if you're self-conscious about your weight, choose a little looser clothing that is not form-fitting.
3. Invest In A Good Top:
You're only going to be from the waist up. Thus, it's important to ensure your top is well-fitted and professional looking.
A blouse with a nice collar or a tailored button-down shirt is always a good choice.
If you're interviewing for a creative position, you may have more leeway with your clothing choices.
That said, it's still important to look polished and put together.
4. Stick To Solids And Simple Patterns:
You want the interviewer to focus on your face, not be distracted by your clothes. So, it's best to stick to solids in muted colors like navy, black, grey, or brown.
If you must wear a pattern, ensure it is small and not overly distracting. Sometimes, a simple pinstripe can be work-appropriate and add interest to your outfit.
When a dress code is specific, it's best to err on the side of caution and dress more formally.
5. Avoid Wearing White Or Red:
It may be tempting to wear a crisp white shirt to an interview, but it's best to avoid this color.
White can be difficult to keep clean. And it may come across as too formal for a job interview.
That said, a black or dark-colored shirt is always a good choice for an interview.
The camera will pick up on the color, and it will help you look more professional.
Some people might also want to avoid wearing red. While red can be a powerful color, it can also be seen as aggressive.
6. Don't Wear Home Clothes:
You might get tempted to wear your comfiest clothes to a Zoom interview, but resist the urge.
You can dress in something other than business attire. But you should still wear something that looks presentable. This doesn't mean you have to break out your best clothes.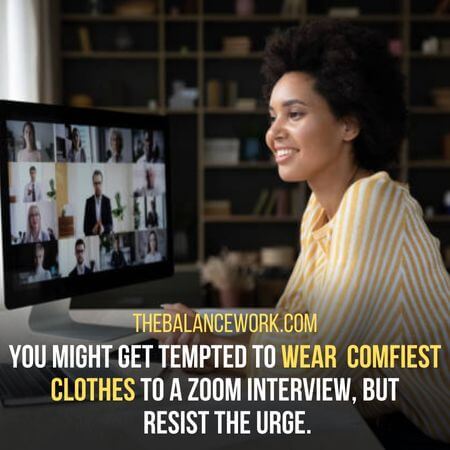 Just avoid wearing anything too casual and make sure you look put-together.
7. Don't Wear Hats:
You might normally wear a hat when you leave the house, but it's best to avoid them during a Zoom interview.
Hats can be disrespectful. And they can also block your face from the camera.
If you have long hair, make sure it's out of your face before the interview starts.
10. Smile:
Wear a sweet smile during the interview. It'll help you come across as friendly and personable.
Your face should be visible at all times during the interview. Although you might be nervous, try to relax and enjoy the conversation.
A smiley face will also help you build rapport with the interviewer. Their face will naturally mirror yours, and they'll be more likely to smile back.
11. Make Sure Your Clothing Is Wrinkle-Free:
Another important tip for what to wear on a Zoom interview is to make sure your clothes are wrinkle-free.
Only your shirt may be visible on the screen. But it's important to look polished from head to toe.
This will show that you're taking the interview seriously and professionally.
Some people like to iron their clothes the night before or even the morning of the interview.
Others prefer to hang their clothes up, so they don't get wrinkles.
12. Don't Wear Sunglasses:
Wearing sunglasses during a Zoom interview is a major no-no. They make it hard for the interviewer to see your eyes. And they come across as rude and unprofessional.
The camera is already having a hard time picking up your facial expressions.
Wearing sunglasses will only make it worse. And some sunglasses have reflective lenses. They make it hard for the interviewer to see your eyes.
8 Tips To Make The Most Of Your Zoom Interview
Here are some tips to make sure your remote interview goes smoothly:
1. Test Your Technology In Advance:
Whatever device you use for the interview, ensure you've tested it in advance.
Your internet connection must be stable. And you should check that your camera and microphone are working properly.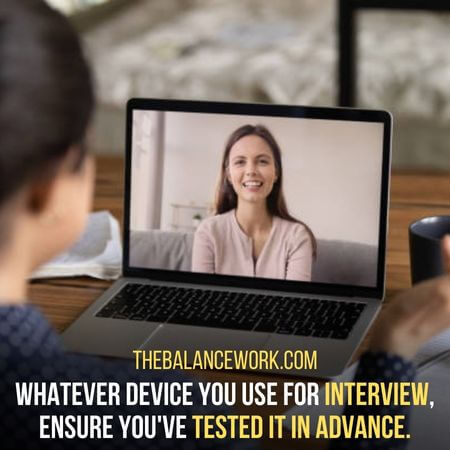 It is always recommended to use a laptop for Zoom interviews. However, you can use a smartphone or tablet if you don't have a laptop.
2. Dress The Part:
Remember, first impressions count. So, you should dress as if you're attending an in-person interview.
That means no PJs or yoga pants! Instead, wear business casual clothes or suits to make a strong impression.
That is why it is important to know the dress code for the company you're interviewing with.
3. Find A Quiet, Professional Place To Conduct The Interview:
Finding a quiet place where you won't get interrupted is important.
You should also make sure the place you're interviewing from is professional-looking.
That means no cluttered bedrooms or kitchens! Instead, choose a spot with a neutral background.
And some companies may provide you with a virtual background during Zoom interview.
4. Pay Attention To The Background Behind You:
Like in an in-person interview, you want to ensure the interviewer can see you clearly.
Thus, your background must not be distracting. That means no personal photos or posters!
And if you can, try to find a spot in your home with a blank wall or simple pattern behind you.
You can add virtual backgrounds in Zoom. It is a nice touch if you want to show your personality or professionalism.
Some examples of professional virtual backgrounds include:
– Office setting
– A cityscape
5. Be Aware Of Your Body Language:
Your body language is just as important in a Zoom interview as it would be if you were meeting face-to-face.
You want to appear engaged, so make sure you sit straight and avoid fidgeting.
And even though the interviewer cannot see your feet, resist the urge to cross them. It will make you look relaxed and unprofessional.
Make sure you have a go-to gesture – like placing your hands in your lap or on the table – to avoid awkwardness.
6. Make Sure The Room Is Well Lit:
Just as you would for an in-person interview, you want to ensure that the room you are conducting your Zoom interview is well-lit.
You don't want the interviewer to strain to see your face. So try to have light coming in from a window or door behind you.
And if possible, avoid having any bright light sources behind you. They will create a glare on the camera.
7. Keep Your Hands Visible:
You want to avoid awkward gestures or fidgeting, so it's best to keep your hands visible.
Rest them lightly on the table before you or in your lap. And if you need to gesture while you speak, do so with your whole arm instead of just your hand.
And with Zoom interviews, you'll want to avoid any sudden movements. They could cause the screen to freeze or pixelate. So try to keep your body relatively still.
8. Make Eye Contact:
As in an in-person interview, you'll want to make eye contact with your interviewer.
To do this, look directly into the camera instead of at the person's image on the screen.
This can be tricky. But it's important to practice before your interview. You shouldn't come across as looking away or distracted.
Sometimes you can prop up your laptop on a stack of books so the camera is at eye level.
Final Word:
What to wear zoom job interview may seem like a small detail. But it's important to make a good impression in your interview.
The right outfit can help you feel more confident and polished. And that could be the difference between getting the job and getting passed over.
So take the time to pick out the perfect ensemble. It'll be worth it in the end!
Last Updated on 3 weeks by Eesha Khan