The global workforce comprises of 40% women. But still, women's rights in the workplace are not getting as much attention as men's do.
What causes to birth this discrimination? Why women are still struggling to get their rights?
8 Basic Women's Rights in the Workplace
What are the basic rights organization owing to women but are unable to provide?
Let's sink into this article to know more about women's rights in the workplace:
1. Safe And Discrimination-Free Environment:
It's a law rule for your employer to provide you with a safe working environment. It must be not hostile to you based on your gender.
2. Right To Speak Against Gender Discrimination:
If there's gender discrimination happening to you or someone else at the work. You have the right to talk about it to anyone like your colleagues or boss.
You also have the right to tell your employer that you see discrimination in the company.
Your employer cannot retaliate against you. Retaliation involves demotion, fired, switched shifts, pay cut. If it happens you can take legal action.
3. Right To Report To HR Or Boss:
You can report to HR or your boss about discriminatory behaviour.
Prefer to complain or report in writing and have copies for proof.
4. Right To Picket Or Protest:
You can protest against gender discrimination. You can get together with your coworkers to raise concerns about this issue.
5. File A Complaint With A Government Agency:
There are employment practices agencies in every country. You have a right to file a complaint with such agencies.
You can also tell your employer that you plan to do so and they cannot retaliate.
6. Right To Sue Your Employer:
You have the right to file a charge with your country's law bodies. They will send you a "Right to Sue" notice.
Be aware of the deadlines to file the lawsuit in court.
7. Right To See Your Personnel File:
You can check your personnel file. Such files contain employment and pay history and performance evaluations.
You can see this to check the fair treatment. Or keep it as evidence in case you want to take legal action later on.
8. File A Grievance:
If you are a member of any union. Your contract contains the "Terms and conditions" of the work.
If you believe that you are not getting fair treatment. Or the employer is not following the contract.
Then talk to the representative of your union to file a grievance.
If you face retaliation for taking any of these actions. Take legal action against your employer for this retaliation is illegal.
See also: Groupthink Vs Group Polarization – Healthy Discussion
Issues Of Women's Rights in the Workplace
Here we are going to discuss the current situation of women's rights in the workplace. There are many factors that affect women's rights.
If you want to know more about those factors do check below:
1. The Current Situation Of Women's Rights:
Women play a major role in holding the communities and even the states together. But in comparison to men, the recognition given to women is very low.
One of the major reasons for this is the opportunities available to women are few.
A large proportion of women is either poor or uneducated or both. Having children or marriage makes it more difficult for women to get jobs.
And even if they get hired they have to do unpaid work or work at very low-wage.
In most industries, women don't get the right to regular pay or regular working hour.
Women don't get equal pay for equal work. Their contracts are not permanent and they don't get the freedom of association.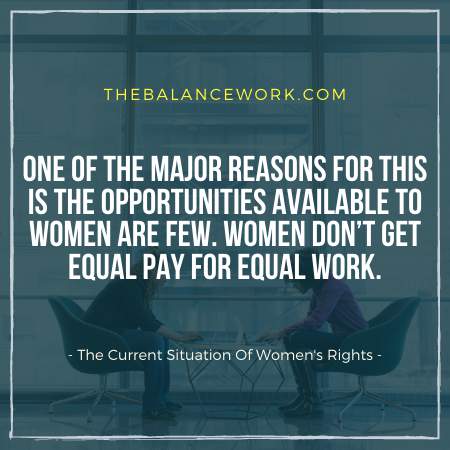 The situation is so bad that even sometimes women don't get a safe and non-hazardous work environment.
Terrible abuses like sexual violence or harassment. And forced pregnancy tests are too common.
Though in some countries, women are being brought to the workplace at a larger rate. But still, their social status is not opened up at the same pace.
They may be getting more opportunities to work. But they are vulnerable to domestic violence and unequal treatment at home.
2. Efforts To Secure Women's Rights:
Development organizations like the UN are working to improve this condition. These are trying to improve the societal concerns by investing in women.
It's clear that women's full participation in society is important. The significance is high for economic development.
According to the women's rights group, full equality for women is not possible. Unless women take a stand and speak for themselves.
3. Workplace Gender Discrimination:
Have you ever heard before about workplace gender discrimination? What is it?
It's a differentiated treatment given to an applicant or employee based on their gender or sex.
It can also be due to the person's affiliation with an organization that works for a particular gender.
People have to face discrimination based on their gender or their race or ethnicity.
For example, a woman may face discrimination at the workplace for being black-colored. She may face strict evaluation or get less pay. She may get ignored for promotion or harassed.
4. Examples Of Gender Discrimination:
Here are some examples of gender discrimination:
– Based on your gender, you may not get hired at all or may get a lower-paying position. It can happen when an employer refuses to hire women.
– Because of your sex, you may get a strict evaluation. Or because of appearance, you might get a differentiating treatment.
– Your pay raise, promotion, or training opportunity gets denied. At the same time, people of other sex who are less qualified than you get the opportunity.
– A person has an equal or less qualification than you. But you get less pay despite similar job duties.
– You might get written up or disciplined for doing a task. While the other employees of the opposite sex do the same thing but not get punished for
– Hearing aggressive remarks, getting insulted, called by derogatory names based on gender.
– You might be subject to discourage sexual kindness or appeal for sexual desires.
– Not getting selected for a job, forced out on leave, or fewer projects because of pregnancy.
5. What To Do Against Gender Discrimination:
If you or your coworker is facing gender discrimination at work. You can take the actions mentioned below:
1. Review The Employer's Policy:
When you start your job, your employer gives you a handbook about his policies. Try to recheck the handbook to see the policies for your protection.
Find out the company's complaint process. If there is not one. Then try to reach out to HR.
2. Do Everything In Written Form:
Write down the incident that happened to you in detail. Include examples of discrimination that occurred before.
Keep the notes about any activity related to discrimination. Try to include timings, dates, and places.
Save any relevant emails or messages. Keep a record of the complaints you filed with your company.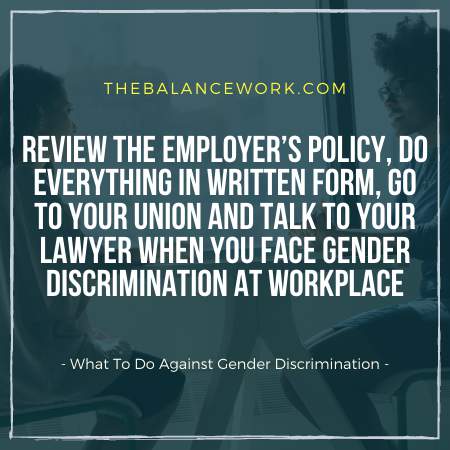 3. Go To Your Union:
In case you belong to a union. Talk to your union's representative. And ask them about the process to file a grievance.
4. Talk To Your Lawyer:
If you can't understand your rights. Talk to an Advocate of Equal Rights. They will give you confidential legal advice and other help as well.
Conclusion:
Women's rights in the workplace include many aspects. An employer cannot exclude a woman from a position due to gender discrimination.
Besides, the employer cannot harass female workers in any way.
Countries have laws against gender discrimination. According to these laws, it's illegal to discriminate based on sex, race, color, or religion.
If an employer has 15 or more people working under him. It's illegal for him to pay less, fire, not hiring or discriminating.
Retaliation is also illegal. If you are reporting or opposing gender discrimination. It's illegal for the employer to retaliate against you.
For creating a better work environment, women themselves need to take action.
Remember that it's normal to report gender discrimination or taking action to stop it. Do what is right for you.
Do comment and give your precious feedback.
Last Updated on 2 years by Shahzaib Arshad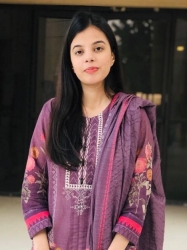 Latest posts by Assma Riaz
(see all)