How to answer what is your availability to interview? First and foremost, be honest about your availability. Honesty is always the best policy!
If you need to be more honest about your availability to interview, it could come back to bite you.
How To Answer What Is Your Availability To Interview With These 10 Factors
Be clear and concise when you answer interview question. The interviewer doesn't need or want to hear a long-winded explanation.
They want to know when you're available to interview. There are some factors to consider when considering your availability to interview.
1. Day Of The Week:
When it comes to days of the week, Mondays and Fridays are typically the best days to interview.
Most people are available on these days, as they're not working. Therefore, Tuesdays, Wednesdays, and Thursdays are usually the busiest days for most people.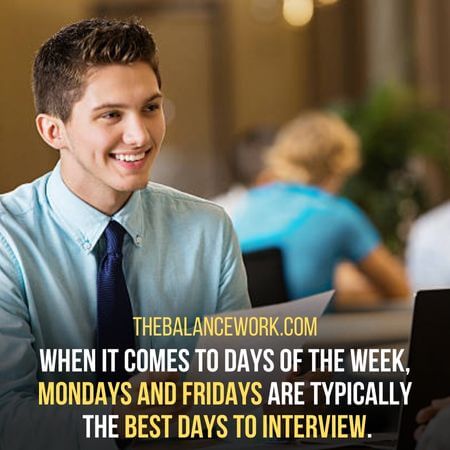 So to increase your chances of getting an interview, try to be available these days.
You can say, "I'm available Monday and Friday afternoons from 2 pm to 4 pm."
Some companies may also be able to accommodate weekends, so feel free to ask about that.
And if you're flexible with your days, let them know that too.
2. Time Of Day:
The time of day is also important to consider when you're considering your availability to interview.
The best times to interview are usually in the morning or early afternoon. This is because most people are available during these times.
And they're not as tired as they would be later in the day. If you appear at the end of the day, you may seem rushed and need to prepare more.
You can say, "I'm available tomorrow morning or early afternoon."
Or, "I'm available any time next week except for Wednesday evening."
3. Length Of Interview:
You should be available for at least 30 minutes. But if you have the time, it's best to be available for an hour.
So when you have the interviewer asks you about your availability to interview, you should give them a range of times that you're available.
And be sure to let them know if there are any days or times you're unavailable.
So you can say, "I'm available tomorrow morning or early afternoon.
I have a few appointments later in the day. But I can make time for a 30-minute interview."
4. Time Difference:
You should let them know if you're in a different time zone than the company you're interviewing with.
That way, they can schedule the interview conveniently for both of you.
And some companies may even be willing to do a video interview. So you have to be available for that as well.
So you say, "I'm available for a video interview at 10 am my time, which would be 1 pm your time."
With a video interview, there's no need to worry about time differences.
5. Other Interviews You Have Lined Up:
You should let the hiring manager know if you have other interviews lined up with other companies.
They may be able to work around your schedule. You don't want to seem like you're not interested in their company.
But you also don't want to string them along if you have another offer on the table.
So you say something like, "I have other interviews lined up, but I'm confident we can find a time that works for both of us."
6. When You're Not Available:
If there's a time you absolutely cannot do an interview, be sure to let the hiring manager know.
You don't want to ghost them or make them wait. Instead, say something like, "I'm not available Monday, but I can do Tuesday at 10 am or Wednesday at 2 pm."
Or "I have a prior engagement Wednesday, but I can do Thursday at 10 am or Friday at 2 pm."
With a response like this, you're being clear about your availability.
But you're also giving the hiring manager some options to choose from. And that's what they want.
7. If You Need Time To Think:
You may only be able to answer after the interviewer asks for your availability.
It's okay to say you need a few moments to check your calendar. However, please get back to them quickly (within 24 hours) with your answer.
If you are late to respond, the interviewer may move on to other candidates.
You want to save their time if you're unavailable when they want you. And some interviewers may see your lack of response as a lack of interest.
So you say, "I should be able to do that. Let me check my calendar and get back to you."
8. Be Flexible With Your Time:
The best way to ensure you get the job is to be flexible with your time.
If they want you in for an interview at 8 am on a Tuesday, try to make it work.
The sooner you can interview, the better. And if you can do a Skype or phone interview at short notice, that's even better. Again, this shows that you're interested and available.
So you say, "If you can give me a few hour's notice, I can make that work."
This also gives you a little time to rearrange your schedule.
9. Don't Be Overly Available:
At the same time, don't be too available. For example, if they want to interview you at 3 pm on a Sunday, that might be a red flag.
They may be trying to take advantage of you or still need to figure out their hiring schedule. In either case, it's probably not worth your time.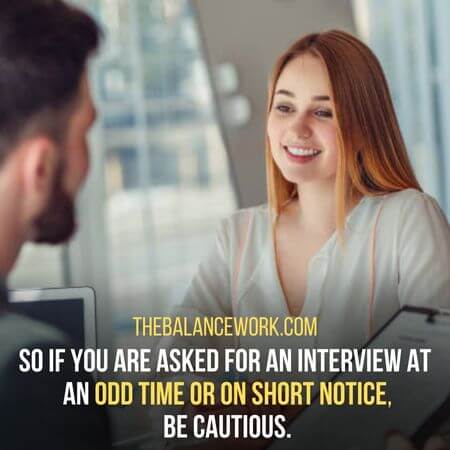 So if you are asked for an interview at an odd time or on short notice, be cautious. Do your research and ensure it's a company you want to work for before committing.
Don't say, "I'm available any time, any day!" This makes you look like you don't have a life outside of work.
Even if you don't have a job, other things are still going on in your life. So you should make it clear that you do have other commitments.
Instead, you should say, "I'm available weekday mornings/afternoons" or "I'm available Monday, Wednesday, and Friday after 5 pm."
This shows that you have other commitments. But you are still willing to work with the company's schedule.
10. Have A Backup Plan:
Even if everything seems to be going well, always have a backup plan. You never know when a company will suddenly change their minds or go in a different direction.
If you've been interviewing for a while and haven't had any luck, keep going.
There are plenty of other companies out there that would love to have you. So keep searching, and eventually, you'll find the perfect fit.
How To Make The Best First Impression In An Interview
Making a good first impression is important, no matter the situation. But it's especially important in an interview setting.
You only have one chance to make a good first impression. So you need to do everything you can to make it positive.
Here are a few tips on how to make the best first impression in an interview:
1. Be Early Or On Time:
Being punctual shows that you're reliable and respect the interviewer's time. So if you can, aim to be early or at least on time.
To be early, opt for public transportation or carpooling, so you don't have to worry about traffic. And if you're driving, give yourself plenty of time to find parking.
Finally, if you're running late, call the interviewer to let them know and apologize.
2. Dress The Part:
Your appearance also says a lot about you. So for most interviews, it's best to dress conservatively. That means avoiding anything too revealing, flashy, or casual.
Or avoid anything that could get construed as unprofessional, like extreme piercings.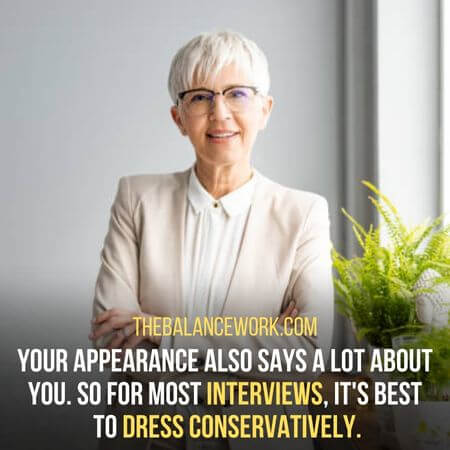 Instead, wear:
– A suit or dress pants and a blazer
– Closed-toe shoes
– Minimal jewelry and makeup
3. Do Your Research:
Before you go into the interview, you should understand the company and what they do.
Review the company website and read any news articles or press releases.
And if you're familiar with their products or services, that's even better.
You don't want to come across as clueless during your interview. So make sure you're prepared with some background knowledge.
4. Ask Questions:
You'll usually have to ask your questions at the end of the interview.
This is your chance to show that you're truly interested in the company and the position.
So come prepared with a few questions to ask. And avoid asking questions that can easily be found on the company website.
Instead, focus on asking questions about the company culture. For example, you can ask what it's like to work there or the next steps in the interview process.
5. Follow Up:
After the interview, follow up with a thank you note. This is a courteous gesture that will also help you to stay fresh in the interviewer's mind.
In your thank, you note, be sure to reiterate your interest in the position and the company.
You can also mention best qualifications or experience you may want to add.
Following up after an interview is a critical step in the job search process. So be sure to remember it!
Final Word:
So how to answer the question, "What is your availability to interview?" When asked this question, give a clear and concise answer.
State the days and times that you are available to interview. And follow up with a thank you note after the interview.
Following these steps will show that you are interested in the position. Good luck!
Last Updated on 2 months by Eesha Khan