Is a job interview a good sign? An interview is just a conversation. It is only sometimes a good sign. But it is not always a bad sign, either.
The interview is just one step in the process when you are job hunting. The interview is an opportunity for you to learn more about the company and the position and to see if it is a good fit for you.
13 Situations – Is A Job Interview A Good Sign?
Many factors go into whether or not a job interview is a good sign:
First, ask yourself how the interview went. Did it go well? Did you feel like you made a good impression?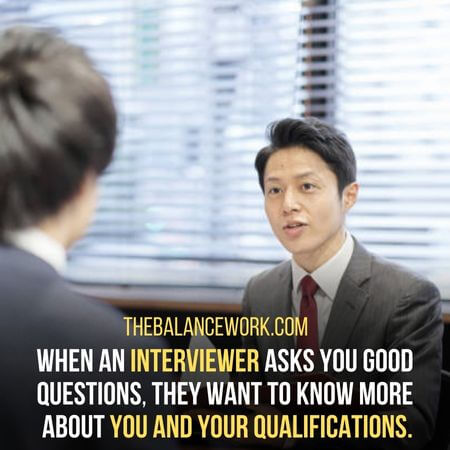 Some signs that the interview went well include:
1. Interviewer Asked Good Questions:
When an interviewer asks you good questions, it shows that they are interested in getting to know you and your qualifications.
Some questions you might be asked include:
– What qualifications do you have for this position?
– How would you describe your work style?
– What are some of your ideas for this project?
With such questions, the interviewer tries to understand if you'd be a good fit for the job and company.
2. Interviewer Has Interest In Your Qualifications:
They may ask follow-up questions about your experience or dive deeper into certain topics.
They may also ask you to elaborate on your resume. When the interviewer shows interest in your qualifications, it's a good sign that they believe you have the potential to do well in the role.
Sometimes, the interviewer may even express excitement about your candidacy.
Or they may say something like, "We'd love to have you on our team."
3. Interviews Lasted Longer Than Expected:
The average job interview lasts about 40 minutes. But if the interviewer keeps you for much longer, it's usually a good sign.
It means they were interested in what you had to say and wanted to learn more about you.
Some interviews may even go over an hour. Although it's only sometimes the case, a longer interview is usually a good sign.
And with some good news, the interviewer may even tell you that you're the last person they're meeting with.
This is usually a sign that they're ready to make a decision and you're one of the top candidates.
4. Interviewer Made Positive Comments:
At the end of the interview, the interviewer should give you some feedback.
And if they make any positive comments, it's usually a good sign. For example, they may say, "You're qualified for the position."
Or you'd be a great fit for the company. "You have a lot of the qualities we're looking for."
These are all indications that the interviewer is considering you for the job.
However, they may only sometimes say direct things like this.
Sometimes, they'll make more subtle comments that are still positive.
For example, they may say, "We'll be in touch." These phrases usually mean that you've made it to the next phase.
5. You Felt Comfortable With The Interviewer:
Some interviewers make you feel like you're under interrogation. They may ask difficult questions or put you on the spot.
This can be stressful and nerve-wracking. But, on the other hand, some interviewers make you feel relaxed and comfortable.
They ask easy questions and make small talk. This is usually a good sign if you feel comfortable with the interviewer.
It means they liked you and thought you qualified for the job.
6. Interviewer Made Notes On Your Good Qualities:
Some interviewers even go as far as to write down your good qualities so they can remember them later.
Why is it a good sign when an interviewer makes notes during your meeting?
They want to refer to your good qualities when making their decision.
And they want to remember what you said so they can tell the other hiring committee members.
7. Interviewer Asked About Your Availability:
If an interviewer asks about your availability, it's usually a good sign.
They wouldn't bother asking unless they seriously considered you for the job. Of course, your availability is only one factor in their decision, but it's important.
If you're not available when they need you, they'll have to keep looking. With so many qualified candidates, they're likely to start immediately.
8. Interviewer Made Future Plans:
If an interviewer starts making plans for the future, it's a good sign. For example, they might say they'd like you to start next Monday.
Or they might mention training you for the job. Or they might say they'd like to introduce you to the team.
Making plans shows that the interviewer is already thinking about what it would be like to work with you.
9. You Felt Like A Good Fit:
The best interviews are those where it feels like you're a good fit for the job. If you left the interview feeling like this, it's a good sign.
What are the signs that you're a good fit? The interviewer will ask you questions about your experience and skills. They'll also ask you about your goals and motivation.
If your answers align with what they're looking for, they'll be more likely to offer you the job.
10. You Got Asked About Salary:
When an interviewer asks about your salary requirements, it's a good sign. But, of course, they wouldn't ask unless they seriously considered you for the job.
Of course, you should wait to give them a number until you're sure you want the job. But this is a good sign that an offer is on the table.
Salary is usually one of the last things discussed in an interview. So if it comes up early, it's a good sign that they're interested in you.
11. You Have A Follow-Up Interview:
If you're invited to a second interview, it's a good sign. It means they liked you and want to learn more about you.
It's also a chance to learn more about the job and the company. Finally, this is your chance to ask more questions and see if the job fits you.
They might give you an assignment on the spot or ask you to come back for a tour of the office.
12. They Ask When You Can Start:
This is another good sign that they want to hire you. They wouldn't ask if they weren't interested.
Of course, they might just be trying to gauge your interest in the job.
You can usually tell by the tone of the interview and the questions they ask.
You can also ask them about the next steps in the process. For instance, you might say, "I'm very interested in the job. When would you like me to start?"
13. They Talk About The Next Steps:
If they mention the next steps in the interview process, they are interested in you. And they want to move forward.
They might tell you about the next steps. Or they may even give you a timeline of when they plan to make a decision.
With these signs, you can be confident that a job offer is coming your way. Just be patient and wait for the official offer. In the meantime, prepare for your next interview!
How To Make Sure You Get The Job After A Great Interview
Even if you aced your interview, there are no guarantees you'll get the job.
That said, the best way to know if you got the job is to ask. If you feel confident after the interview, ask if you got the job.
You might get surprised at how often this works. Even if they're not ready to give you an answer, they'll usually at least give you a good indication of where you stand.
Another way to increase your chances of getting the job is to follow up after the interview.
This can be in the form of a thank-you note or email.
Follow Up Email Or Note:
In your message, reiterate your interest in the position and thank them for their time.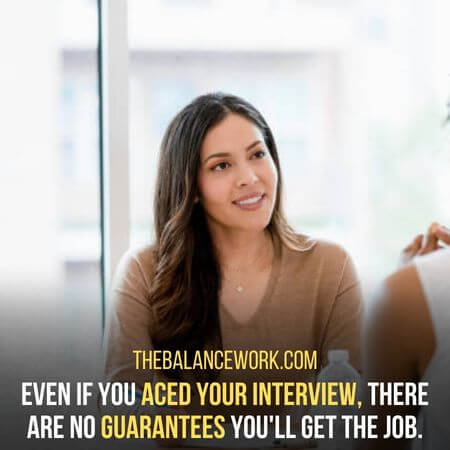 You could also mention something you discussed during the interview. Or you can highlight a particular skill set you have.
This is also a good time to address any concerns they may have about hiring you.
For example, you have little experience in the field. You could talk about your willingness to learn.
And you can ask how quickly you pick things up. End by saying you're looking forward to hearing from them soon.
Sample Email:
Subject: Thank you for meeting with me
Hi ____,
Thank you for taking the time to meet with me yesterday. I enjoyed learning more about the ____ role. And I got a better sense of what the team was working on.
I'm confident that my skills and experience fit the job well. And I'm excited to put my knowledge to work in a new role.
Please let me know if there are any other questions I can answer. I'm looking forward to hearing from you soon.
Thank you,
[Your Name]
Emailing your interviewer is a great way to stay top of mind and show your interest in the role. Just make sure to keep it short, sweet, and professional.
Final Word:
So is a job interview a good sign? Typically, yes. But there are always exceptions to the rule. If you are still waiting to hear back after your interview, don't despair. The company may be taking its time with the hiring process.
Or they may have decided to go in another direction. The best thing you can do is stay positive and keep your chin up. There's always another job around the corner.
And who knows? The company you interviewed with may contact you down the road. So keep those doors of opportunity open!
Last Updated on 6 months by Shahzaib Arshad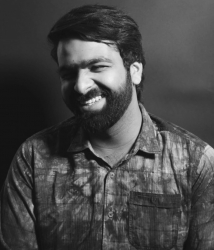 Latest posts by Shahzaib Arshad
(see all)