How to give an interview when you know the interviewer? First, you must present yourself in the best light possible when you know the interviewer.
Remember that the interviewer is still evaluating you for a job. So you must think strategically about how best to prepare for the interview.
How To Give An Interview When You Know The Interviewer – 18 Tips
Here are some tips on how to give answers in interview when you know the interviewer:
1. Do Proper Research:
So when you know the interviewer, it's important to do your research. Learn as much as you can about the company's culture and history.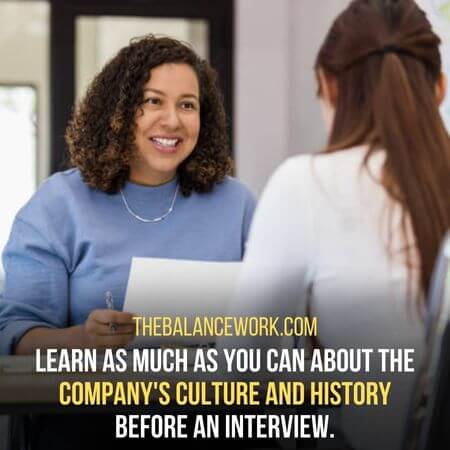 Understand the job role and what exactly is expected of you in that role. This information will help you prepare better and present yourself confidently during the interview.
Although you know the interviewer, you don't want to give the impression that your research was limited.
So with the right research, you can impress the interviewer and make them want to hire you.
2. Use Their Name:
When you know the interviewer, it's great to use their name when addressing them. It will help build a personal connection and engage better with the interviewer.
It is also important to remember your body language when speaking to the interviewer. Make good eye contact, smile, and maintain a positive attitude.
And so be yourself, and maintain the right body language.
3. Have Examples Ready:
Interviews are used to judge how well-prepared you are for a particular role.
So you must have examples ready to showcase your capabilities and experience.
Prepare stories about your past work experiences demonstrating how you handled tricky situations. And also highlight your strengths.
Examples should be relevant to the role you are interviewing for. And they should be as per the questions that have been asked.
For instance, is the interviewer asking about problem-solving? Then tell them how you identified and solved an issue in your past job.
This way, you can give your interviewers greater confidence in your ability to succeed.
4. Show Your Enthusiasm:
If you want the job, show your enthusiasm by asking questions during the interview.
This will show your interest in the company and your willingness to learn more about it. Additionally, express your excitement about the role and the opportunity it presents.
Your known interviewer may know how much you are truly interested in the position.
Since they already know you, they can better judge your true intentions and motivation.
So do more than state that you want the job. Instead, show your enthusiasm through questions. And demonstrate why you are much excited about the role.
5. Don't Boost:
It is important, to be honest in the interview. Do not exaggerate your talents, skills, and experience. This could backfire and make you look bad.
The interviewer you know already knows you. So there is no need to try and impress them with outlandish stories.
Remember that the interviewer knows your strengths and weaknesses. Therefore, it's best to focus on how you would handle certain scenarios or tasks.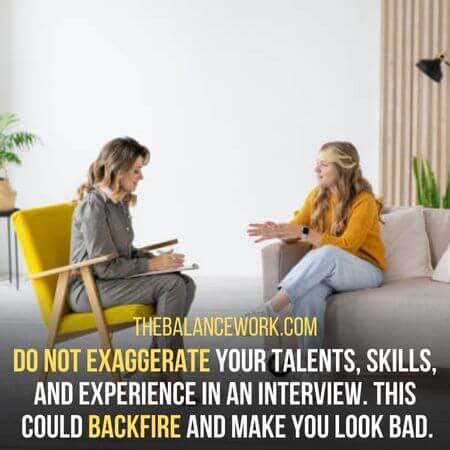 Lastly, just be yourself! Even if the interview is with someone familiar to you, treat them professionally.
6. Ask Good Questions:
Asking good questions is an important part of the interview process and shows that you want the job.
Make sure to jot down a few questions about the role or organization. This is also a great way to demonstrate your knowledge about the company and position.
And the interviewer you know will be much impressed by your enthusiasm and interest in the job.
7. Pay Attention To Your Appearance:
When it comes to first impressions, physical appearance is quite important. So ensure you are smartly and appropriately dressed for the job role.
This will ensure that the interviewer takes you seriously. You can either choose to wear work attire or opt for a more formal look.
Also, ensure that your hair, nails, and shoes are clean and presentable. And some light makeup and accessories can also help.
8. Be On Time:
Punctuality is a crucial part of job interviews. When you know the interviewer, they will expect you to be on time.
Make sure you plan your interview commute in advance and arrive early. This will show the interviewer that you respect their time and take the job seriously.
And you can also ask the interviewer if they need any additional documents or materials from you.
There might also be additional questions or forms you need to fill out.
9. Be Open To Questions:
When you know the interviewer, be open and honest when answering questions.My Boss Gets Annoyed When I Ask Questions – 11 Reasons
The interviewer will expect you to understand the job. So make sure that you take time to explain your background and expertise in detail.
And also, be ready to provide concrete examples of how you've solved past problems.
10. Project Confidence:
When you know the interviewer, it can be tempting to overshare. Or you may come off as too casual during the interview process.
But it's important to remember that you are still in a job interview and must project confidence.
It's important to be yourself. But also show the interviewer that you are taking the interview seriously.
And tell them that you understand what they expect of you as a potential employee.
11. Prepare To Answer Personal Questions:
If you know the interviewer, they may feel comfortable asking you personal questions. For example, they may ask about your family, educational history, or work experience.
Be prepared to answer these questions with confidence and professionalism.
Show the interviewer that you are comfortable talking about yourself professionally.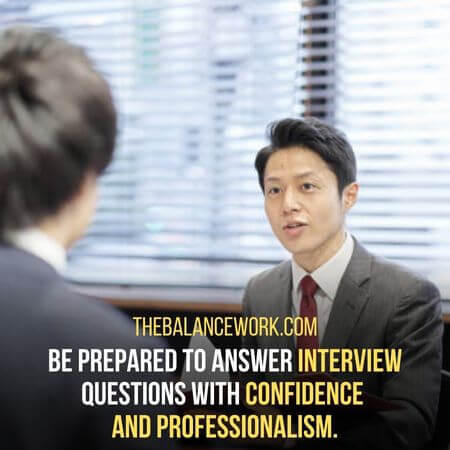 You may feel more comfortable talking to someone you already know. But you should still prepare for the interview as you would with anyone else.
12. Ask About The Job:
Even if you know the interviewer, there will still be aspects of the job that may surprise you. For example, ask the interviewer questions about the job, the company culture, etc.
Ensure you understand what job duties you can expect.
You know the interviewer already. So you may already have a sense of their management style.
Ask the interviewer questions to gain insight into what it will be like to work with them.
13. Avoid Complacency:
It is more comfortable to interview someone you know. But it's important to remember that you still need to sell yourself as the best candidate for the job.
You'll want to avoid appearing complacent. Instead, show your motivation for the role. And let your qualifications speak for themselves.
Be prepared to demonstrate why you are the best person for this job. Be ready to answer technical questions.
Discuss past projects and explain how you can bring value to the company.
14. Have Good References:
Always make sure to have good references that the interviewer can call. It's important to bring up past employers who can vouch for your performance.
If you don't have any professional references, consider asking a friend or professor.
But make sure that if you are going for an industry job, it is important to have references from the field.
You can also provide links to your online portfolio. It may be a Linkedin profile or other work you have done.
Dont's Of An Interview When You Know The Interviewer
Here are some things to avoid when interviewing a person you know:
– Don't rely on the relationship as a crutch.
– Don't let familiarity lead to overconfidence.
– Don't feel like you can lower your standards for the interview process.
– Avoid being overly familiar or friendly during the interview
15. Don't Make Assumptions:
No matter how well you know them, don't expect them to cut corners or bend the rules for you.
Be sure that any special requests or considerations are reasonable and polite.
If more than one person is interviewing you, don't assume that the person you know will be on your side.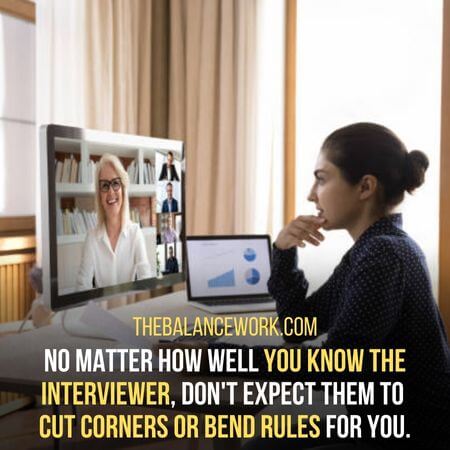 Be prepared to make an impression on everyone in the room.
Avoid bringing up personal matters or anything unrelated to the job.
This will show respect for the interviewer. And it will help keep the conversation focused on the topics related to your job application.
16. Don't Rely On The Relationship As A Crutch:
It's beneficial to have a relationship with the interviewer. But don't assume that your connection will get you through the interview process.
You still need to be ready and show qualities that make you a strong candidate for the job.
Your relationship may give you an edge. But it will only guarantee success if you are well qualified and prepared for the job.
17. Don't Let Familiarity Lead To Overconfidence:
You may be familiar with the interviewer and their company, but remember to stay humble.
This familiarity can lead to overconfidence. It can show poorly in an interview setting.
Stay professional and aware that you are there for an important evaluation process. Speak confidently, but remain humble. You can say, "I am excited to be here and confident in my skills."
Avoid saying, "I know this job like the back of my hand."
18. Avoid Being Overly Familiar Or Friendly During The Interview:
It is important to be polite and respectful. But it is also important not to be overly familiar or friendly with the interviewer.
Though you may know them, remember that this is an interview setting where your career could be on the line.
You should professionally address them. And maintain appropriate boundaries throughout the conversation.
Use a firm handshake, make eye contact, and smile.
Final Word:
So how to give an interview when you know the interviewer? Do your research, practice your answers, and maintain a professional demeanor.
It's important to be ready and confident when giving an interview. It won't matter so if you already know the interviewer.
Put your best foot forward. And don't be afraid to express your enthusiasm for the job.
Last Updated on 2 weeks by Eesha Khan