Before we jump on to the list of jobs for people with chronic fatigue, let's get a bit of background. First, learn what chronic fatigue is and how it affects people if you aren't aware of it.
Chronic fatigue syndrome (CFS) is a disorder in which people feel exhausted and tired. The fatigue is so severe and interferes with their daily activities and productivity.
People with CFS may also have other symptoms. Sleep problems, muscle pain, and difficulty concentrating are the most common.
What Jobs Should People With Chronic Fatigue Do
When fatigue worsens with physical or mental activity, mainstream jobs become impossible. So what's the solution then?
There's no one-size-fits-all answer to which job suits chronic fatigue. For example, some people may be able to handle a more demanding job if they have a good support system.
While others may need to scale back their hours or find a less demanding position. So it depends on the individual and what works best for them.
Let's explore some jobs that are a perfect fit for people having chronic diseases or fatigue. Here are some jobs that might be a good fit for people with chronic fatigue.
1. Translator's Job
If you're bilingual or have expertise in many languages, working as a translator is an option.
Also, translators work from home, which can be ideal for people with chronic fatigue. So they can take breaks during the day or work at their own pace.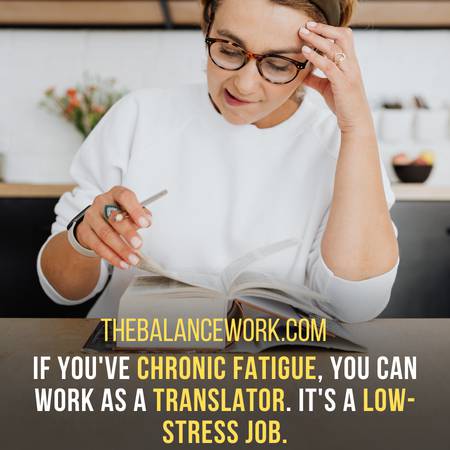 Yet, this job best suits people who know more than one language and can make money even if they work for 3-4 hours. So if you think it's your cup of tea, go for it!
2. Blogging – One Of The Best Jobs For People With Chronic Fatigue
Instead of looking at 9-5 jobs, people with chronic fatigue can become bloggers. It's a great job for people who want to work from home and set their hours.
All you need is a computer and an internet connection, and you can blog about anything.
If you're unsure what to blog about, write about your experiences with chronic fatigue. You can mention what works (or doesn't) for you.
There's sure to be an audience out there who would appreciate your insights.
So if you're a good writer and have something to say, blogging could be a good option. Don't wait, and make the best use of your creative thoughts.
3. Creative/Copywriter
If you have a knack for writing reviews, working as a creative or copywriter could be a good option.
Like blogging, you can also do this job from home, which is ideal for people with chronic fatigue.
You'll write reviews of products, services, or businesses as a copywriter. This job requires good writing skills and the ability to meet deadlines.
Yet, it can be a great way to earn extra income if you have the necessary skills.
So get your gadget ready, and put your skills to use! You can do something while fighting your chronic fatigue.
4. The Job Of A Transcriber
Another job that you can do from home is transcription. Transcriptionists listen to audio recordings and type out what they hear.
Do you have fast typing skills and sharp listening skills? Then, you're in the perfect spot and timing to be a transcriber.
Due to the world's digitalization change, the transcription field is a bit different. Still, there's so much you can do to earn a nice living!
Yet, this job is a bit more demanding than others on this list. That's because you need to be able to type quickly and accurately.
But if you think you have what it takes, transcription can be your life savior in the hour of need.
5. Data Entry Operator – Jobs For People With Chronic Fatigue
If you want to ease down your work life and catch a breath while you keep earning, a data entry job can be an option.
As a data entry operator, you would be responsible for inputting data into a computer system. That's an office job, but some data entry positions allow you to work from home.
Data entry is a relatively easy job, but it can be quite tedious and time-consuming.
But, it's a perfect option for people with chronic fatigue who need a low-stress job that they can do at their own pace.
So if you're looking for a job that won't wear you out, data entry might be the perfect option.
6. Freelancer
If you're a creative person with chronic fatigue, freelancing could be a great way to make a living.
Freelancers are self-employed workers who provide services to clients on a contract basis.
There are many freelancers, from writers and designers to web developers and photographers.
Freelancing is a great way to make a living if you're creative and have the skills to back it up. Yet, it can be a bit unpredictable, as you never know when work will dry up.
But if you're good at what you do, freelancing can be a great way to make a living while working from home.
Even if you don't have a knack for any freelance work, you can take online courses to learn. It will take only a few weeks to start!
7. Customer Support – An Easy Job
If you have good people skills and are patient, working in customer support could be a way for you.
Customer support representatives assist customers who have questions or problems.
You must think that customer support needs to be done in an office, but that's not always the case. For example, you can work for a company as a representative from your home.
Customer support is demanding; dealing with difficult customers is tiring. Yet, it can be a rewarding job, as you'll be helping people solve their problems.
So, customer support might be the perfect option if you're looking for a rewarding career.
8. Photographer
A camera, a knack for photography, and a nice pair of shoes are all you need to be a novice photographer.
You can make your way to becoming a good photographer with effort and progress.
Photographers take pictures of people, places, things, and much more! They may work in studios or on location; that depends on choice.
While photographers have to travel for work, many photography jobs can be done from home.
And even if you travel, you can stay at good hotels because photographers earn well. So it can be a complete package of comfort, money, and a little bit of adventure.
9. Virtual Assistant
A virtual assistant is an online assistant who provides support. That's about giving the clients administrative, social, or technical support.
Small businesses often use virtual assistants who need help with tasks. But don't have the time or resources to do them themselves.
You've to schedule meetings, prepare documents and make posts on social media. You can have one or more clients, depending on your capacity. Sounds great, right?
Virtual assistants work from the comfort of their couch and laptop. That makes it a viable option for people with chronic fatigue.
10. Online Tutor's Job
If you're a teacher or do a job that involves knowledge of a certain subject, you can tutor students online.
Online tutors provide instruction and help students with their studies.
You can work with students from all over the world. That is a great way to meet new people and learn about different cultures.
And since you'll be working from home, it's a perfect job for people with chronic fatigue.
11. Photo And Video Editor
If you have a good eye for detail and are creative, photo and video editing could be the perfect fit.
Photo and video editors create, edit, and improve digital images and videos.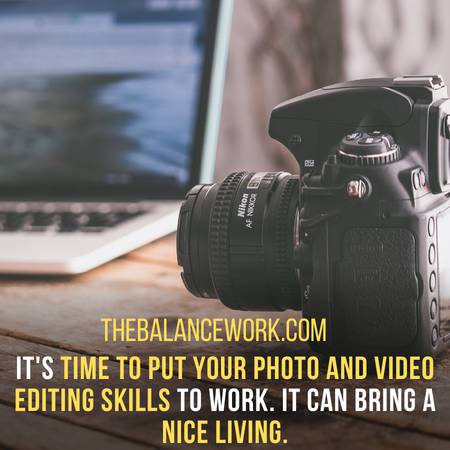 They may work in various settings, including advertising agencies, media organizations, and corporations.
You can also work for individual photographers or publications. And many photo and video editors work from home as freelancers. This job is quite interesting, creative, and in demand.
You can make your way to work with high-profile magazines and exciting brands.
So what are you waiting for? Put your mind to work and see wonders happening!
12. The Job Of A Proofreader
Well, this is the easiest and low-stress job on this list. You just read a text and omit the grammar mistakes; sound soothing?
Proofreaders check written materials for errors in grammar, punctuation, and spelling.
They also look for inconsistencies in the text, incorrect facts, or information. Proofreaders typically work from home and can set their hours.
So if you're looking for a job you can do at your own pace, proofreading might be the perfect option.
13. Crafts Seller
This job is for all the people who are creative and have a good sense of art.
If you can make jewelry, paintings, or craft, you can sell your creations online or at local craft fairs.
Many platforms allow you to sell your crafts, such as Etsy and Amazon.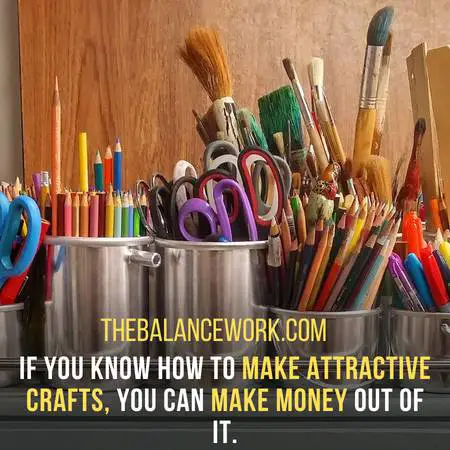 You can also set up your website or blog to sell your skills.
This job is perfect for people with chronic fatigue. Because you can work at your own pace and from the comfort of your home.
14. Life Coach – Jobs For People With Chronic Fatigue
Have you got empathy for other people? Or do you like helping others and making them survive difficult situations in life? Guess what? You can earn a living through this skill.
A life coach helps people achieve their personal and professional goals.
In addition, life coaches provide support, guidance, and advice to their clients.
They help clients identify their goals, create action plans, and overcome obstacles. Life coaches can work with clients in person, over the phone, or online.
If you're a people person and enjoy helping others, life coaching can be your thing!
15. Travel Agent
Do you love to travel and explore different places? Or do you have a lot of knowledge about the travel industry? Then working as a travel agent might be the perfect job for you.
Travel agents help their clients plan trips or choose hotels and flights. They also make other arrangements.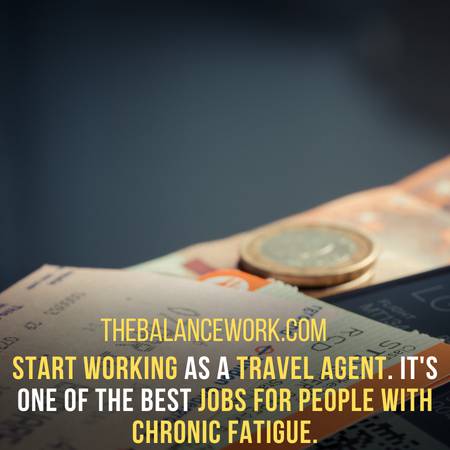 They may also guide what to see and do at their destination.
Travel agents work from home, so it's a perfect job for people with chronic fatigue.
And if you love to travel, you can get paid to do something you enjoy!
Conclusion
There you have it, 15 jobs for people with chronic fatigue. These jobs are perfect for people who want to work from home and at their own pace.
Although it's not easy to find a job that accommodates your need for flexibility, it is possible. With a little research and perseverance, you can find the perfect job!
Drop your thoughts in the comment section below.
Frequently Asked Questions
Is it possible to work with chronic fatigue syndrome?
Yes, it is possible to work with chronic fatigue syndrome. Many jobs accommodate people with chronic fatigue.
These are telecommuting, freelance, and jobs that allow you to set your hours.
How do you get things done when you have chronic fatigue?
You can do a few things to help you get things done when you have chronic fatigue.
Set realistic goals and expectations, and don't try to do too much at once. Finally, take care of yourself and make sure you get enough rest.
What does extreme fatigue feel like?
Extreme fatigue can feel debilitating. It makes it difficult to get out of bed; even simple tasks seem impossible.
People with extreme fatigue often feel like they have no energy and are constantly tired.
Does chronic fatigue ever go away?
There is no cure for chronic fatigue, but it is possible to manage the symptoms. People with chronic fatigue can live normal, productive lives with proper treatment.
Treatment includes lifestyle changes, such as getting enough rest, exercising, and managing stress.
Last Updated on 11 months by Shahzaib Arshad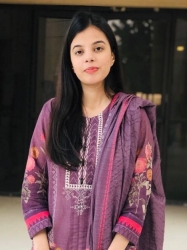 Latest posts by Assma Riaz
(see all)