Has that company reposted the job after the interview? Some companies may repost jobs after interviews to look for additional candidates or due to changes in the company.
A reposted job after an interview does not necessarily mean that the company is unhappy with the original candidate.
11 Reasons Why The Company Reposted Job After Interview
The company may widen its search and ensure they find the best fit for the position. A few scenarios could lead to a reposted job after an interview. These include:
1. Additional Candidate:
The company may post the job again to widen its search for potential candidates. If the company is happy with the original applicants, they may look for more potential candidates.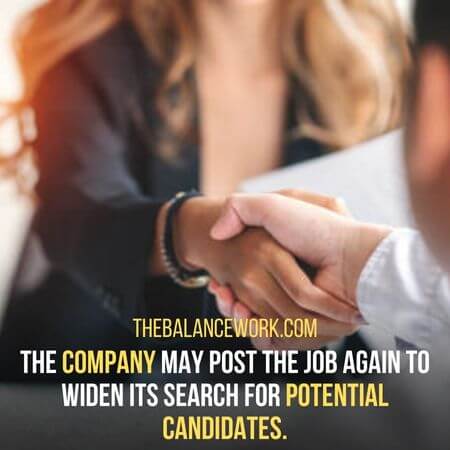 And this is not a bad thing. Getting a better variety of applicant backgrounds can lead to the best person being chosen for the job.
Some companies may post a job multiple times to make sure they find the right person for the position.
2. Unsatisfactory Candidates:
The company may have felt that none of the original interviewees were suitable candidates. This can lead to disappointment.
But it is also an opportunity to repost and start fresh with new applicants. Some companies do not keep the same job description and may adjust it to suit their goals better.
With any job posting, it is important to remain professional and courteous to potential candidates.
This can help create a positive image of the company. It can ensure that future applicants are more likely to respond.
3. Increased Competition:
Posting a job multiple times can lead to increased competition for applicants. Candidates who have previously applied must then compete with new applicants.
Competition can be beneficial, as companies choose from the best. Companies should strive to create a positive atmosphere.
They must give an environment where applicants can feel comfortable enough to apply to their job postings multiple times.
4. Failed Negotiations:
Negotiations between the company and an applicant may have failed. This could be due to a change in circumstances.
Or perhaps the company found another candidate more suitable for the job. In these cases, reposting the job can help find someone willing to accept their terms.
They need to move forward with the hiring process. And with an updated job posting, they can ensure that the person hired is a good fit for their needs.
5. Unmet Qualifications:
Sometimes an applicant may not quite meet the qualifications for a job position. Reposting the job can bring in more qualified candidates or a better fit for the role.
This can ultimately help the company have succeeded in filling the position. With any luck, the next round of applicants may have more of what is needed for the job.
6. Provide Opportunity To Others:
Reposting a job can allow another application to be considered for the position. It also may provide applicants who have already applied.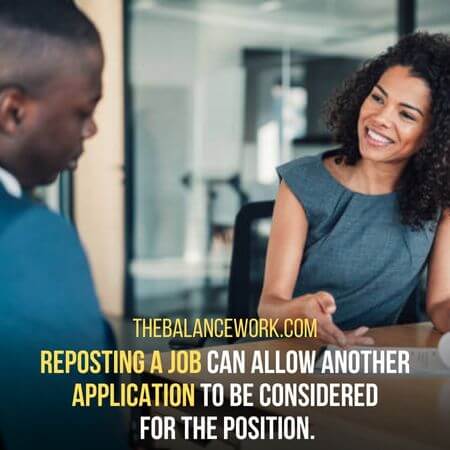 It can give them another chance to apply if they feel their skills are better suited than before.
In some cases, this could even help an applicant find a job perfect for them in terms of their desired goals.
7. No Response:
It's not uncommon for applicants to never respond to job postings. This could be due to a lack of interest or simply forgetting about it.
Reposting the job can bring in new talent and revitalize the position in these cases. In addition, it's an excellent way to bring in new applicants and ideas.
It allows employers to find the right candidates for their job openings. Also, it gives a second chance to those applicants who may have missed the original posting.
8. Widening Your Reach:
Posting a job more than once can increase visibility, allowing you to reach out to more people and widen your applicant pool.
This can help you find the perfect candidate for your position. Additionally, reposting a job is an opportunity to adjust the job description and requirements.
9. Encourages Diversity:
Reposting a role can help encourage diversity in the workplace. In addition, it may open up new opportunities to applicants of different backgrounds and experience levels that were not considered before.
This can create an environment where everyone feels included and respected. When you repost a job, communicate the changes made to your staff and potential applicants.
This will help ensure everyone understands why you are reposting the role and what changes have been made.
This is also a great chance to create an open dialogue with your team. You can encourage them to share their ideas and thoughts on the new job posting.
By doing this, you can create an atmosphere that encourages diversity and inclusion in the workplace.
10. Improved Recruiting Process:
Reposting a job can help streamline the recruitment process. By refining the role description, you can better target potential candidates with the skills and experience you're looking for.
This also reduces wasted time. You can quickly get the job to a qualified pool of candidates without starting from scratch.
Additionally, when reposting a job, it is important to use updated recruitment technology and techniques. This helps make sure applicants have an efficient and easy experience.
Doing this can also set you up for a successful onboarding process. Having key information gathered before an employee's first day helps create a smooth transition into the role.
11. Sourcing & Screening Candidates:
When reposting a job, sourcing and screening candidates should also be part of your process. This ensures you reach the most qualified applicants for the role.
You can use automated recruiting software to streamline this process. This allows you to evaluate resumes quickly.
You can contact potential hires and keep track of each candidate's communications and responses.
Some other strategies you can use to source candidates include:
– Reaching out to your existing network of professionals
– Posting on job boards and social media platforms
– Advertising open roles in industry publications
By using the above methods, you should be able to find a qualified candidate for the role quickly.
Best Job Post Characteristics
When reposting a job after an interview, there are certain characteristics that you should include in the post.
1. Roles & Responsibilities:
The post should clearly explain the roles and responsibilities of the job. This will help potential candidates understand what they would be doing if hired.
It will make it easier to decide if they're a good fit for the role. Some important information to include in the post would be job duties, expectations, and qualifications.
If any additional training is necessary, this should also be mentioned in the post.
2. Company Information:
Job seekers want to know more about the company they are considering working for. Include information about the company's mission, values, and current products and services.
This will help candidates make an informed decision about whether or not the company's culture and working environment are a good fit for them.
It should paint a picture of what it's like to work at the company. It can help potential hires determine if the job is a good match.
3. Benefits & Perks:
Benefits and perks are key components in any job post. They can be one of the main attractions for potential hires and could lead to more applications.
Be sure to include information about any benefits, such as:
– Vacation and sick days
– Health insurance coverage
– 401k program, and
– Tuition reimbursement.
Additionally, mention any employee perks or discounts that employees can take advantage of. These might include discounted gym memberships or free snacks in the office.
4. Location:
Provide details about the job location – whether a remote position or based out of an office building.
If you are hiring for multiple positions across different locations, list each separately so applicants know where they would be working if hired.
5. Required Skills & Qualifications:
This section is important to ensure you get qualified candidates who can do the job well. List all relevant qualifications required for the position, such as:
– Education level or qualifications
– Years of experience
– Specific technical or industry knowledge
6. Compensation:
This is an important section for applicants considering your job opportunity. Outline the salary and other compensation for the position, such as bonuses or benefits.
The compensation must be market competitive and in compliance with all applicable laws.
7. Deadline & Application:
Add the deadline for the applications to be received. Let applicants know if the job will close as soon as a suitable candidate is found.
Outline how applicants should apply for the position and if an application form or other materials must be provided.
Provide the contact details of someone from your team who can be contacted with questions regarding the job and application process.
Thank all applicants for their interest in the position and let them know that only shortlisted candidates will be contacted.
Final Word:
A reposted job after an interview is a great opportunity to find the right candidate for your organization.
Take the time to craft an effective job advertisement outlining job requirements. It should also encourage interested and qualified applicants to apply.
Any applicant can be considered for the job after an interview. So, consider all applications and pick the best candidate who meets your organization's needs.
Last Updated on 8 months by Shahzaib Arshad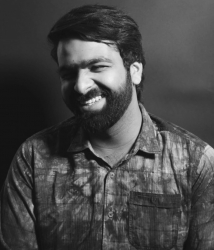 Latest posts by Shahzaib Arshad
(see all)