Jobs for people with no experience mean that the employer is willing to train you on the job.
This can be an entry-level position as an intern or a volunteer.
28 Jobs For People With No Experience
Often, these jobs are in customer service or food and beverage.
If you have no experience, don't worry, there are plenty of jobs! Just keep looking, and don't give up.
Some examples of jobs for people with no experience are:
1. Customer Service Representative:
Starting with junior or entry-level customer service jobs is a great way to start your career.
Most likely, you will need excellent communication skills and a can-do attitude.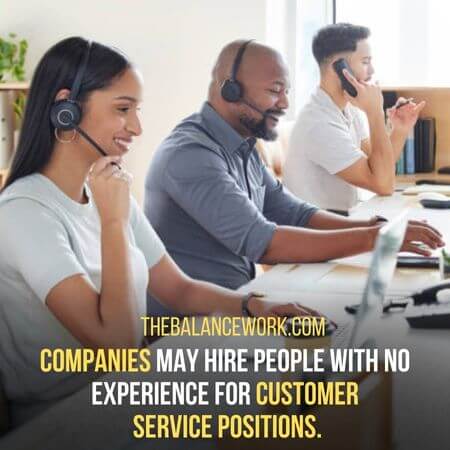 CSRs have to deal with customers daily. So you must be able to handle difficult situations calmly and professionally.
Companies may hire people with no experience for customer service positions. However, they can train them on the specific skills they need for the job.
2. Food Server:
Food servers play an important role in the hospitality industry. They are responsible for:
– Taking orders from customers
– Serving food and drinks
– Cleaning up the dining area
Food servers typically have no experience when they first start. However, many restaurants are willing to train them on the job.
And with experience, food servers can move up to higher-paying positions such as:
– Head waiter
3. Sales Associate:
Sales associates are responsible for helping customers find the products they need. They also help with:
– Stock shelves
– Cleaning the store
– Cashiering
Many retail stores are willing to train sales associates with no experience. And with experience, sales associates can move to higher-paying positions such as store managers.
However, sales experience is not required for all positions. For example, some stores may hire associates without any sales experience.
4. Receptionist:
Receptionists are responsible for answering phones and greeting customers. They also help with:
– Scheduling appointments
– Filing paperwork
– Data entry
Many businesses are willing to train receptionists with no experience. Maintaining a professional and friendly demeanor is essential for this position.
Whenever you call a company, the first person you speak to is likely the receptionist. This position is important for keeping the business organized and running smoothly.
5. Nanny:
Nannies provide child care in the home of the family they work for. They are responsible for:
– Caring for children
– Supervising playtime
– Helping with homework
– Preparing meals
A nanny must be patient, nurturing, and reliable. Some families may require that nannies have child care experience, but many are willing to train the right candidate.
6. Barista:
A barista is a coffee shop server who specializes in making coffee drinks. They are responsible for:
– Interacting with customers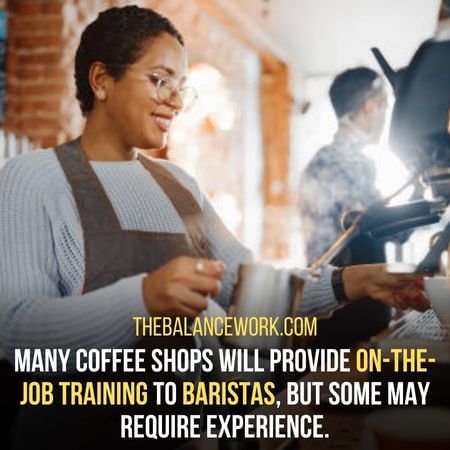 – Making coffee drinks
– Maintaining a clean work area
Baristas must be friendly and efficient. Many coffee shops will provide on-the-job training, but some may require experience.
However, baristas with certification from any cooking-related course will have a competitive edge.
7. Delivery Driver:
A delivery driver is responsible for picking up and dropping off packages. They may also be responsible for:
– Loading and unloading the delivery vehicle
– Checking packages for damage
– Keeping a log of their deliveries
Most delivery drivers have a high school diploma or GED. In addition, some companies may require a valid driver's license and a clean driving record. But experience is not always necessary.
8. Office Clerk:
An office clerk is responsible for a variety of administrative tasks, including:
– Answering phones
– Filing documents
– Data entry
– Photocopying and faxing
Office clerks may be fresh from high school or college, with little to no experience. However, some office clerk positions may require a year or two of related experience.
Interns Are People With No Experience
An internship is a great way to get your foot in the door and gain valuable experience.
Most internships are unpaid. But they will allow you to learn new skills and grow your network.
Some internships may even lead to a full-time job offer. Just be sure to research before accepting an internship, as some may not be as reputable as others.
There are many industries that offer internships, such as:
1. Accounting Intern:
With a degree in accounting, you could find an internship in auditing and tax. Or you could even become a certified public accountant.
But with no experience, your best bet is to start with a position in accounting.
As an intern, your tasks would include:
– Filing and organizing paperwork
– Answering phones
– Balancing books
– Assisting with audits
2. Design Intern:
There are internship opportunities available if you have a background in design.
You could intern with:
– Fashion designer
– Graphic designer
– Interior designer, or
– Web designer
Your tasks would likely include:
– Assisting with design projects
– Creating prototypes
– Conducting research
3. Human Resources Intern:
Interns without prior experience can take up internships in human resources.
Your tasks would include:
– Assisting with recruitment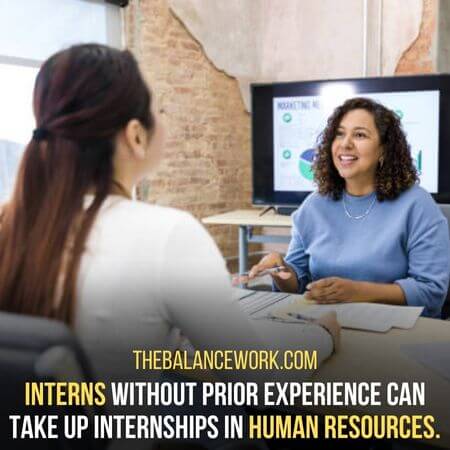 – Organizing employee files
– Answering employee queries
HR has many entry-level positions that are perfect for people with no experience.
4. Journalism Intern:
If you have a knack for writing and current affairs, you could be a journalism intern.
Your tasks would include:
– Writing articles
– Conducting research
– Taking photos
– Assisting with social media
Journalism roams around many industries. It gives you a chance to find an area that suits your interests.
After the experience of a few months, you could easily get a job as a journalist.
5. Social Media Intern:
Nowadays, every company needs to have a social media presence. As a social media intern, your tasks would include:
– Coming up with content for social media platforms
– Managing the social media accounts
– Engaging with users
– Analysing social media analytics
This job is great for creative people with good communication skills. It is also a perfect way to learn more about digital marketing.
Volunteering Requires No Experience Too
If you can't find a job that doesn't require experience, another option is to volunteer. This will allow you to learn new skills and build your experience.
Many organizations are always in need of volunteers. Some industries requiring volunteers include:
1. Health Care:
Hospitals need volunteers for a variety of tasks, such as patient care. Volunteers can also offer their time to help with administrative tasks.
However, these allow you to learn new skills and build your experience in the industry.
Volunteering also offers the perfect opportunity to see if a career in this field is for you.
Other potential tasks of a health care volunteer can include:
– Helping out at a community health fair
– Assisting in a physical therapy department
– Transporting patients
– Working the front desk at a hospital or clinic
2. Animal Welfare:
Shelters and rescues always need volunteers to help with the care of animals. This can include cleaning, feeding, and exercising the animals.
Many shelters also offer training programs to teach volunteers. For example, they learn how to handle and care for animals.
Animal welfare has many different aspects. There are also opportunities to volunteer on the administrative side of things. This can include tasks such as:
– Answering phones
– Helping with fundraising
– Working events
3. Fundraising:
Many non-profit organizations are always in need of volunteers to help with fundraising. This can include tasks such as:
– Solicit donations
– Plan and organize fundraising events
– Sell tickets or merchandise
Fundraising gives the experience of working with the public. And also give people the opportunity to learn about different causes.
Sales skills also can be developed through this type of work.
4. Event Planning:
Event planning is another area where volunteers can gain experience. This can include tasks such as:
– Coordinating with vendors
– Setting up and tearing down the event
– Helping to promote the event
Event planning is a great way to get experience in customer service and hospitality. However, it also requires organizational skills and the ability to think on your feet.
5. Sports Coaching:
Sports coaching has become a popular option for people with no experience. This is because it is a great way to give back to the community and help people stay active.
Sports volunteers are into tasks such as:
– Teaching sports skills
– Leading warmups and cool-downs
– Helping with equipment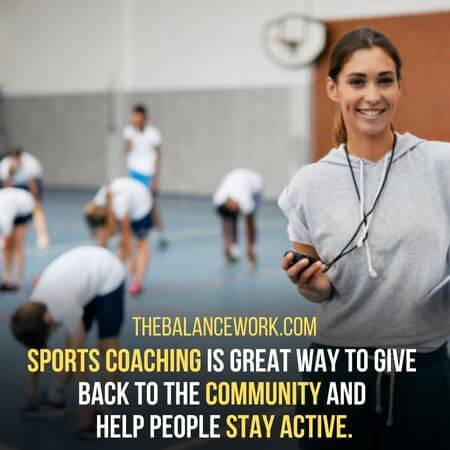 Coaching also requires good communication skills and the ability to motivate people.
So these were some 28 of the best jobs for people with no experience. Remember, the key is to start somewhere.
Do not get discouraged if you do not get your dream job immediately.
How To Gain Job Experience
Whatever job you end up taking, make sure to do your best and learn as much as you can.
The experience you gain from your current job may be what you need for your dream job.
Here are some tips to make the most of your current job:
– Be punctual and don't take too many days off
– Get to know your co-workers and build relationships
– Offer to help with tasks outside of your job description
– Be proactive and take initiative
– Complete assignments on time and to the best of your abilities
– Constantly look for ways to improve and do things better
– Show potential employers that you are committed to your chosen career path.
Final Word:
Jobs for people with no experience are not always easy to find. However, internships and volunteering jobs can help you get in the door.
Once you have some experience, you can start applying for entry-level jobs. Again, be willing to start at the bottom and work your way up.
With hard work and dedication, you will eventually get there.
Last Updated on 11 months by Shahzaib Arshad