A bad boss will always affect your mental and physical health by creating a toxic workplace. An abusive boss is even worse!
A study suggests that 80% of people quit their jobs because of abusive bosses.
Defining the line between a healthy and abusive relationship with the boss is challenging.
13 Work-Able Ways For How To Deal With An Abusive Boss
An abusive boss might be verbally abusive or show physical abuse, alas!
Some of the abuse can be so serious that it demands legal action. This article helps you to identify the abusive boss and suggests ways to deal with it.
Let's just sink in!
1. Identify The Obvious And Illegal Abuse
Before getting to know how to deal with an abusive boss, cross-check is it abuse?
Some types of abuse got forbidden by laws, like sexual harassment or discrimination.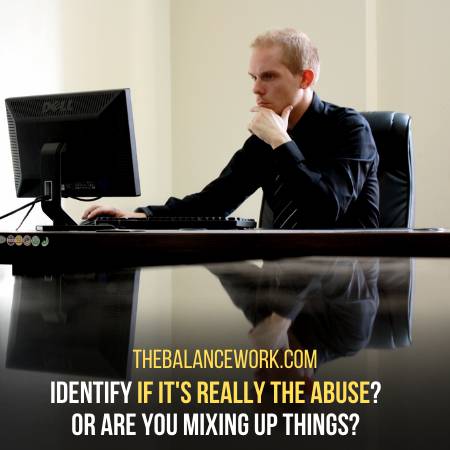 Protecting yourself from abuse requires you to acknowledge abuse when it happens.
Know that excusing abuse would only increase the abuse. So ignoring abuse and relating it to the workplace culture is not a good idea!
2. Talk To Your Boss To Deal With Him
If you had a good relationship with your boss before, you should talk to him. Start a face-to-face conversation and let the cat out of the box!
You can request a meeting with your boss when he is in the right senses. Tell your boss that you're trying your best to make things work out. But it doesn't seem to be working.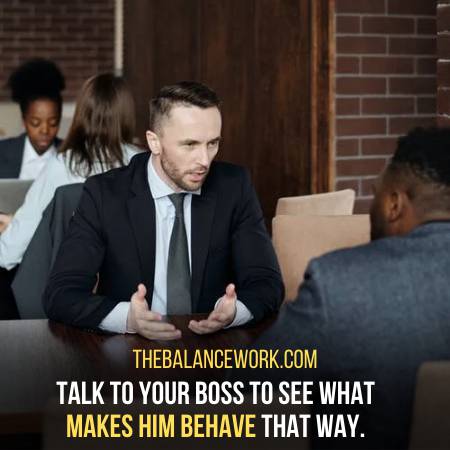 If there's anything I'm missing, please let me know; I'm open to your suggestions.
But using different names for calling me out really discourages me. You need to stop it.
Addressing an abusive person is anxiety in itself. Nonetheless, you should try it to see the consequences.
3. How To Deal With An Abusive Boss – Send An Email
If in-person conversation gives you severe anxiety, you can skip to another option. That is sending an email to deal with this unpleasant situation.
Remember that this email can get to HR in case if the case proceeds. So try to show respect but be discreet about the facts.
If you can include examples, it would be best in your favor. When you write about insults, these seem unacceptable at any cost.
4. Inspect Your Health While Dealing With Someone Abusive
Abuse results in stress, whether it's in personal life or at the workplace. It can leave severe effects on your health and make it deteriorate.
Sometimes abuse can result in depression, tension, and heart diseases.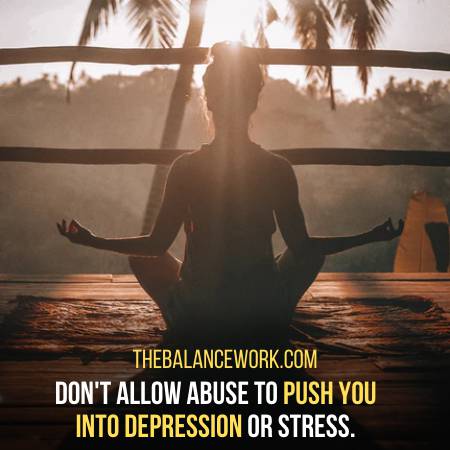 Noticing a decline in your health is alarming, but hold on! You can still take control of this situation.
Some signs are high blood pressure and nausea before you start your workweek.
5. How To Deal With An Abusive Boss – Document The Incidents
Keep a record of all these abusive incidents that have been happening to you.
Take notes of the date and time when the incident occurred. Also, make sure to document the actions and words of your boss.
If anyone was there during the incident as a witness, you could write their names too.
You can also write the after-effects of these incidents. If you felt in a certain way after the incident, and if it affected your work, note that.
Such notes will help you when confronting your boss or filing a complaint in HR.
Keep copies of the doctor's record describing the health effects of this abuse.
6. Talk About The Problem – Keep Your Emotions At Side
If you tried discussing the matter with your boss and nothing changed.
Consider, for example, you asked your boss questions about the job, and he called you an idiot.
For sure, you aren't okay with it, and that's alright.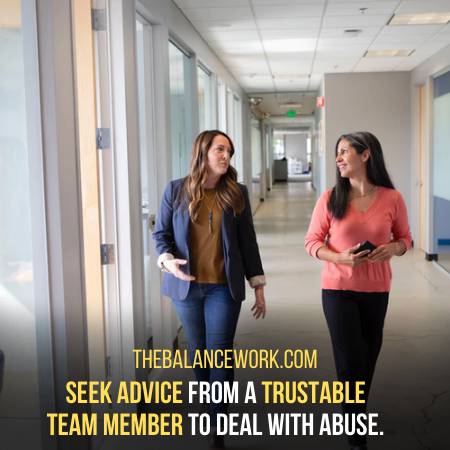 Find a team member you can confide in. it's better to talk to someone who has worked or still working under him.
Tips from such a person would let you better deal with this situation. But remember to keep your emotions aside while talking about it.
If you seem to be emotional, people will interpret you as a weak and hostile person.
Let your emotions cool down. Please don't make it a gossip session or a situation of team vs. boss.
7. Examine It From Your Boss's Perspective
If your boss yells at all employees, rethink what made him do so? Maybe he stresses that he is letting out on you and others.
Some people yell at employees because of their mean nature. But maybe your boss gets stressed at work or at home.
If your boss is coming off as too intense, it's because of an undeniable pressure to succeed.
Try to look at the other side of the picture and empathize with your boss. It can change the situation entirely!
8. How To Deal With An Abusive Boss – Actively Listen To Your Boss
Listen carefully to your boss's words. When he makes a point, repeat and rephrase that thing in your mind to have a better insight.
It shows that you are respectful and carefully listen to what your boss says.
Unclear and vague commands can make it difficult anyhow.
But you can ask the boss to repeat his point and clarify.
Use this rule when you initiate a discussion by highlighting a hidden message from your boss.
It shows your responsibility for making workplace relationships peaceful.
9. Try To Find The Common Grounds Between You And Your Boss
Improving your work relationship requires both you and your boss to cooperate. Find some common grounds to make things work out.
Working together, under the same roof, you both must have common goals and experiences.
You might share a common stressor with your boss, like an approaching deadline.
Offer your help to your boss by saying that I know this project is stressful for us.
10. Cope With Your Bad Boss By Practicing Engaged Difference
If nothing of the above works, try to rise above these unpleasant situations.
You need to be indifferent towards your own emotions to let them pass.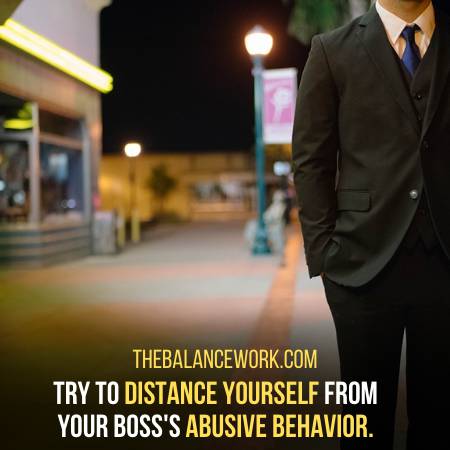 Distancing yourself from the unpleasant perspectives of work can really help at times.
So you can try to practice engaged difference. Seek meditation to change your attitude and emotions at work towards a positive side.
11. How To Deal With An Abusive Boss – Try To Work Around Your Boss
Don't give your boss opportunities to act out. You can do this by preparing beforehand to deal with consequences.
It's advisable to communicate via email as much as you can to avoid in-person contact.
Be ready by thinking that your boss won't like the work and ask for revisions.
It's a good way to prepare for the upcoming revisions rather than starting an argument.
12. Consider A Bit Of Upward Hostility
Employees engaged in passive-aggressive behavior are happier at work. However, it's not recommended to show passive-aggressive behavior.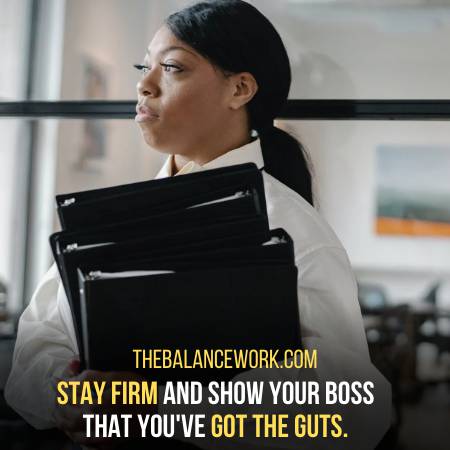 Because acting out at work can put your reputation at stake.
The purpose of this point is to be strong and show your boss that you've got a backbone.
13. How To Deal With An Abusive Boss – Take A Legal Action
If you have an abusive boss, ask yourself if the situation is bendable or it's time to find a new job.
Keep in mind that you have skills and experience that lead you to get the current job.
So you're able to find a better option somewhere else.
However, if you're unable to find a job, ask your state to provide you with unemployment benefits.
4 Signs You're Working For An Abusive Boss
Before you begin your fight against an abusive boss, check whether he's offensive or not.
Here are some clear signs that you're working for an abusive boss.
1. The Sign Of An Abusive Boss Is Disgusting Treatment
A boss can have a cold personality and high expectations. It's alright! But if your boss treats you with disgust, then she is emotionally abusive.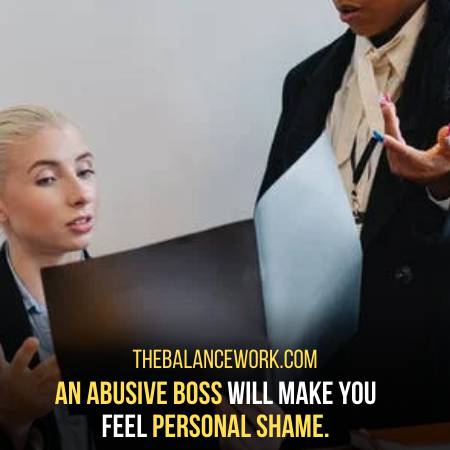 A good boss won't ever make you feel personal shame or disgust.
It's common to mess up at work, and we all do that sometimes.
But the boss doesn't need to show a constant severe reaction or throwing sarcasm.
2. An Abusive Boss Micromanages The Work
It's the job of a manager to manage, but what about micromanaging? Micromanaging is, no doubt, a form of emotional abuse.
It drains the employee to the extent that he is unable to perform well. If you feel that your boss is micromanaging you, you should move back even if he trusts you.
Look closely at your work. See where the issue is coming from and where the trust got broken?
If the problem isn't in your work, then it's the boss who's being abusive.
3. A Lot Of Gossips Is A Sign Of An Abusive Boss
Gossip happens in every office, but it shouldn't be your boss being the starter of gossips.
You need to be cautious of bosses who talk to employees about other coworkers.
Such bosses will criticize your coworkers in one-on-one meetings with you. But beware because they can be talking the same with others about you.
4. An Abusive Boss Will Gaslight You
Gaslighting is a sure sign your boss is abusive. When you bring a past incident to your boss, and he makes you feel like you're crazy.
It's your boss trying to gaslight you by denying the reality.
Your boss's job is to listen to your perspective even if he can't take any action. But if he refuses to listen, he's abusive.
Frequently Asked Questions
How Do You Protect Yourself From An Abusive Boss?
Set boundaries around you and stay at a safe distance from your abusive boss. Remember that human resources might not have your back. It's your responsibility to protect yourself. If everything fails, try to find a new job.
What Constitutes An Abusive Boss?
An abusive boss knows the art of belittling employees and encourages unhealthy competition. He knows how to create an unhealthy and stressful work environment.
How Do You Deal With A Disrespectful Boss?
Dealing with a rude boss isn't that much difficult. You can ask him why he's behaving that way. Respond in low, kind, and positive behavior. Learn and adapt to your environment.
How Do You Outsmart A Toxic Boss?
First of all, differentiate between a demanding boss and a bully. See if you're the only target, then make yourself protected. Seek support from coworkers. Expose the wrong side of your boss. Get emotional support to quit if you need to.
Conclusion
It sucks to work under an abusive boss. No matter what's the basis for your relationship, you don't deserve to bear an abusive boss.
Your boss has no right to abuse you even if you made a mistake or messed up at work.
No doubt it's advisable not to take your abusive boss personally. But it won't always work.
Always remember that you have options. But if these options don't seem right to you, quit the job and look for a new one.
Let us know your thoughts by dropping a comment in the comment section below.
Last Updated on 1 year by Shahzaib Arshad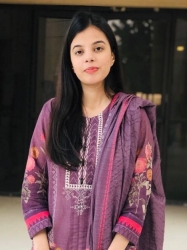 Latest posts by Assma Riaz
(see all)