Getting sick is an unavoidable part of life! Even the best employees will have to take a leave because of sickness.
Calling in sick is hard to take the decision. You must be frightened about what if your boss doesn't believe it?
It's natural to think like this. But you must not feel obliged to keep working if you aren't well enough.
7 Tips For How To Tell Your Boss You're Sick
Everyone should take an off when they're sick for not infecting other coworkers.
Telling your boss that you're sick is a tricky thing, especially when it's a busy week.
But here are some proven tips for "How to tell your boss you're sick."
1. Inform Them Immediately
Suppose you wake up feeling sick or lethargic; just give your boss a call, email, or message. Briefly inform your boss that you're ill and can't come to work that day.
It's necessary to tell the boss the very moment you realize that you won't be able to go to work. So he can arrange an alternative way of covering up your work.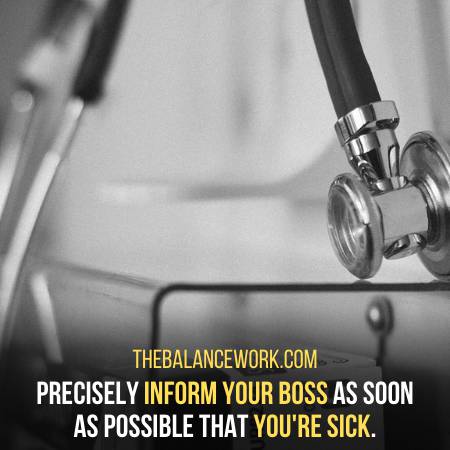 If you start to feel bad a day before, give your boss a heads-up. Tell him you won't be able to make it to work the next day.
2. How To Tell Your Boss You're Sick – Explain Briefly
Don't be too detailed while explaining your illness. Your boss doesn't want to get the horrific details of your stomach bug.
If you want to take an extended sick leave, you can write the email briefly. But here we're talking about the sick leave for only one day.
So keep the message concise and focused.
3. Inform Your Team That You're Sick
Your boss won't be the only person who will get affected by your absence. Your absence will impact your coworkers too!
So consider sending an email to the team and tell them you are absent for the day.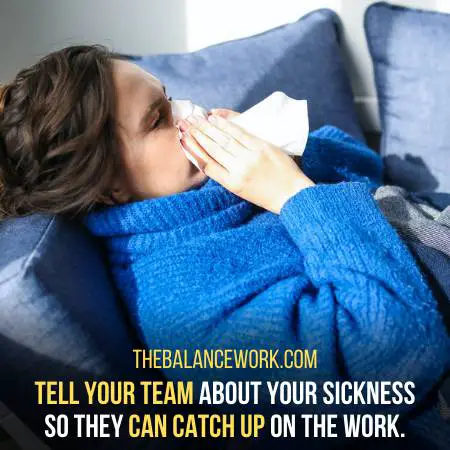 It is essential for jobs with group projects where your teammates must be aware of. So inform them that you aren't available for the day.
It will avoid any inconvenience, and no one will get annoyed for a deadline ahead.
4. Offer To Make Up The Work If You Can
If you're well enough to cover up your work remotely, then try to do so. Tell your boss and coworkers that you'll be responsive to any email.
Yet, if you're much sick to see the emails, say so!
It will be a professional act if you get a plan to get your work done either late or by someone else.
5. How To Tell Your Boss You're Sick – Mention The Important Information
Inform your boss or coworkers about the critical information that is needed for the day.
For instance, if there's a meeting at 3 pm, the manager and team should be reminded of.
Such information will help to save your team from trouble while you are not there.
6.Try Not To Lie While Telling Your Boss You're Sick
There can be either good or bad reasons for calling in sick. But giving a lousy reason to someone for missing work for a day is an absolute lie.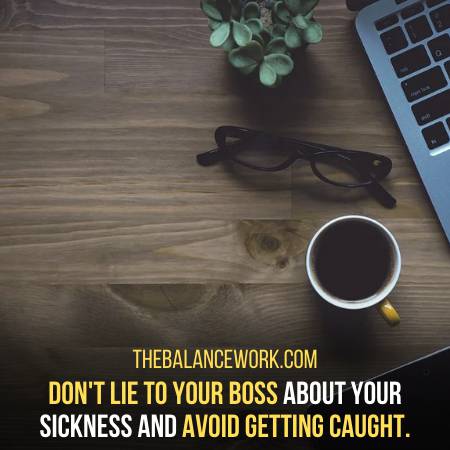 Some people are against you at the workplace and always find reasons to let you down.
If you lie, and they get that reason, you're going to get in trouble. So if you aren't sick but need a day off, be truthful to tell your boss.
7. How To Tell Your Boss You're Sick – Follow Up
If your company demands proof of your sickness, be sure to provide it to them.
Don't use a doctor-note-worthy sickness if you aren't sick.
Otherwise, you are going to dig yourself into a hole.
6 Tips For Telling You're Sick When You Are Not
If you aren't feeling sick, but there's a need for a day off to recharge, then what should you say?
Some employers don't allow such day-offs. But you have an option to fake sickness. You need to follow some steps and be cautious if you plan to do so.
Keep these tips in mind to avoid any trouble in the future.
1. Time It Right
You can easily assure your boss that you're sick by choosing a random day from the week. But, calling in sick on a Monday or any day before a holiday can be suspicious.
Your boss will assume that you're extending your weekend or recovering from a drunk day.
Try to time your leave in the middle of the week to avoid getting noticed.
2. Don't Make A Phone Call
If you aren't confident in lying to your boss on a phone call, don't talk directly.
You can send a message to let your manager know about your absence.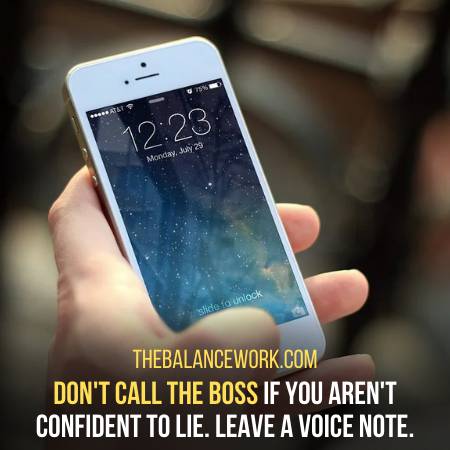 In case the manager prefers a call, try to call before the lunch break or, better, leave a voice note.
It will help you to avoid a direct conversation with your boss as mornings are always busy.
3. Keep It Extra Brief
You must not want to get into a detailed discussion if you're faking your illness. Because the more lies you will tell, the more will be the chances of getting in trouble.
Avoid a phone call if your employer does not strictly require it. Keep the reason for your absence as brief as possible.
If the boss throws any additional questions, answer short and to the point.
4. Don't Confess To Anyone That You Lied
If you tell your boss that you're sick, you must not say to your coworkers that you lied.
If you tell them that you took a day off to have some rest, your secret might get out.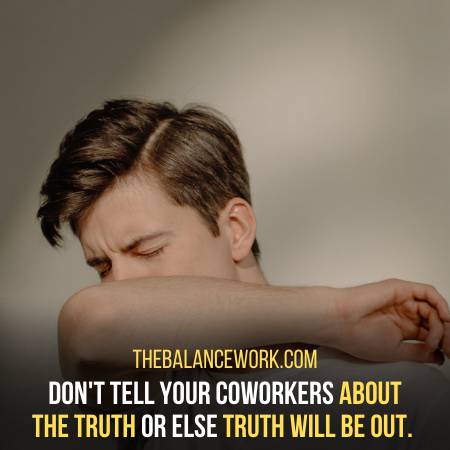 Such kind of information has chances to leak out. Even your closest friends can reveal the truth to your boss.
5. Pay Attention To Social Media
Many people got caught while lying about their illness because of social media. They told their boss they were sick and posted a view from a beach on social media.
That's how their bosses find out about the lies. So you should not post anything related to your day off.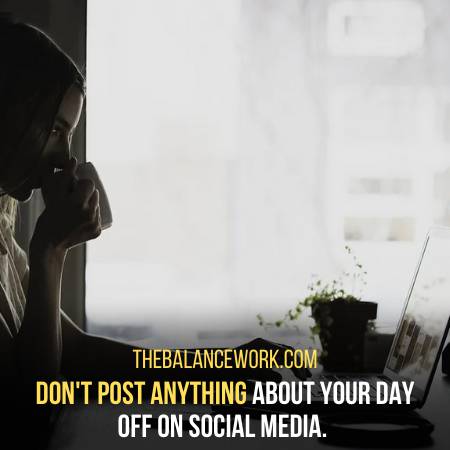 Otherwise, your information will get back to your boss.
6. Work Hard Once You Return
After your day off, you will have to get along with the ongoing projects.
It is specifically the case when you take an off for a personal day. Work hard so your boss knows that you're committed to getting your job done.
10 Excuses To Avoid While Telling Your Boss You're Sick
Besides the actual reasons to call in sick, here are some excuses you definitely need to avoid.
1. Your phone exploded in your hand, and you're injured.
2. There was a massive bear in your yard, and you were scared of it.
3. You won't show up to work because you swallowed a nail while eating at a restaurant the day before.
4. You forget to pick up your clothes from the laundry, and you've nothing to wear.
5. There was wrestling with a bodybuilder before the workday, and your arm got hurt.
6. The uniform doesn't fit, and you're embarrassed to be called "fat."
7. A dog swallowed your car's key, and you were trying to get it out.
8. You ran out of gas and were late to work.
9. You had an appointment for a manicure because your nails were rough.
10. There was a solar eclipse, and it wasn't safe to get out.
Paid vs. Unpaid Sick Leave
While you plan to call in sick, you must be thinking, will I get paid for the time I am sick? Well, it depends and varies!
According to the laws of some states, one cannot get paid for time not worked.
Even if it's sick leave, personal leave, or vacation time, it's not permissible to pay for leave.
However, some companies give paid sick leaves to their employees.
Frequently Asked Questions
Is It Ok To Text Your Boss That You Are Sick?
Texting your boss that you're sick is less complicated than talking in person. Texting is a good alternative where you won't have to hear your boss's distressed voice. Also, your boss will be less angry when she finds out about your absence.
Do I Have To Tell My Boss Why I Am Sick?
Employers can ask about the details of your illness. If your boss asks what is wrong, you must give him a bit explanation of why you were absent. You can tell your boss if you were sick or you had a minor accident.
Is It Ok To Call In Sick Two Days In A Row?
You need to have a solid reason to call in sick two days in a row. Because a simple stomach ache will get you off for one day only. So you should find a suitable reason for calling in sick for two days.
How Many Times Can You Call In Sick?
Most of the workplaces offer 40 hours of sick leave. It means you can call in 5 times a year for being sick. Otherwise, you can take as many days off if you don't give a damn.
Conclusion
You're all caught up! In the end, remember that getting a sick day off depends on two important things.
The first one is the company's policy for sick days. And the second one is your relationship with your boss.
Make sure to keep up with the company's procedure. Keep your communication precise and professional at every step.
Try to lessen the burden for your coworkers who will have to cover the work in your absence.
Above all, don't feel guilty to ask for a sick day when you're sick. It's natural for anyone to get sick. A considerate boss would understand this.
Keep in mind that health is wealth!
Let us know if you have something to suggest on this.
Last Updated on 2 weeks by Saad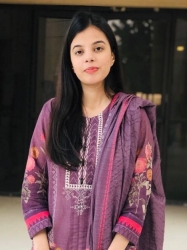 Latest posts by Assma Riaz
(see all)