Job interviews are the most anxiety-inducing things on this earth. It always leaves us with mixed feelings.
We keep on thinking about everything that happened at the interview. Did I say something awkward?
Will I be able to get this job? Did it end on a good note?
15 Signs You Didn't Get The Job After Interview
The questions related to an interview keep on revolving in your mind, and it's normal to think like this. But spending hours and hours replaying whatever happened can lead you to stress.
I tell you, there's nothing guaranteed when it comes to job searches.
But here are some signs which can tell you if you're still on the job hunt or there's a stop.
1. Company Makes Excuses Is One Of The Signs You Didn't Get The Job
An interested candidate will try to keep in touch with the company after the interview.
But the company keeps making woes and excuses to get rid of you. If it happens, you must not expect a job offer.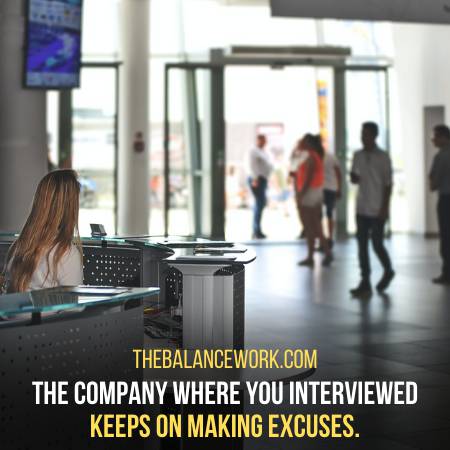 There can be a reason behind it. The company claims it to be stable, but it is not. And you probably won't work for such a haphazard organization.
The other reason is that company is waiting for a better candidate to enter the scene. That's why they keep on delaying the decision.
2. Signs You Didn't Get The Job After Interview – The Interview Ends Suddenly.
Most of the interviewers inform how long the interview will go when they were scheduling.
If the interview is of 30 minutes, most interviewers decide the results in the first 15 minutes.
So you can say if your interview didn't go long enough, you aren't considered for a job.
So it would help if you moved on to the next jobs.
3. One Of The Signs Is An Internal Candidate Enters The Scene
It's harder to continue when you know that you're competing with an internal candidate.
Companies prefer to hire their internal candidates because of different reasons.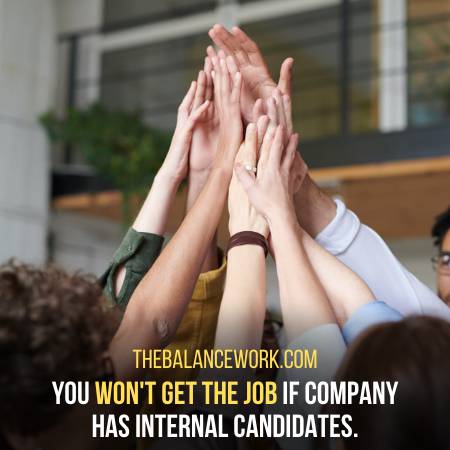 First of all, it's cheaper to do internal recruitment than external ones. Also, the internal hires know more about the organization, and they better fit the role.
Companies prefer internal hiring because it brings more engagement. And the employees, when they grow in their career, tend to refer to other people.
So moral of the story is if an internal candidate emerges, your chances to get the job are zero.
4. They Didn't Sell The Company To You.
You must have spent so much time selling yourself to the company. But do you get it back?
Did they try to sell you the job by telling you how nice this place will be to work?
The company will do this if they are interested in having you. But if it doesn't happen, you should understand that you are not on the list.
5. Signs You Didn't Get The Job After Interview – Show Concerns On Your Background.
Interviewing is an emotionally draining process. It's harder to know whether you're moving forward or not.
Candidates should ask one key question at the end of the interview, "Do you have any concerns?"
If they say no, then proceed with saying, "Great, What's the next step?"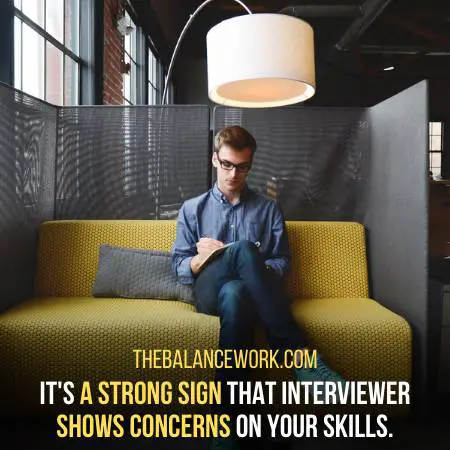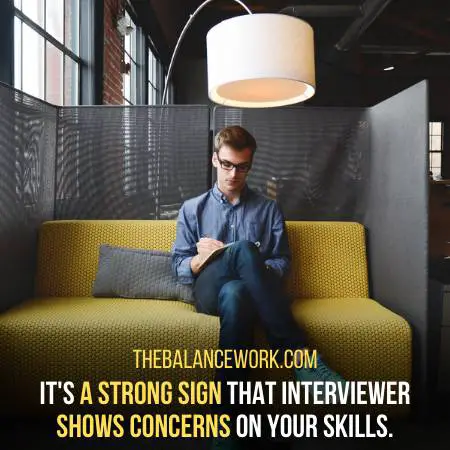 But if they share any concern about your skills, culture, or background. Then it would help if you subtly tried to fix things and see what's miscommunicated.
Asking this question helps you to see where you're standing in the process.
6. The Recruiter Can't Get In Touch With The Company
Sometimes people use a recruiter to quick their job search. But when the Recruiter says that they are having trouble reaching the company.
Then there's something they are trying to hide from you.
The sudden stop in communication is because your Recruiter isn't telling you everything.
The company found a better candidate than you and aren't interested in you.
7. Escort You Out Of The Office After The Interview Ends
The process of hiring costs a lot of money and time, and so it's expensive. Interviewers are always looking for ways to cut short the time and money spent.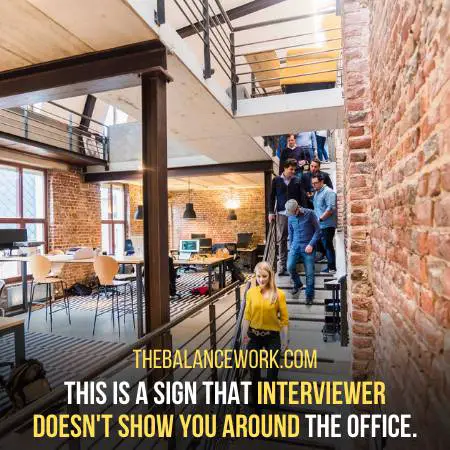 So if they aren't interested in a candidate, they won't waste time giving them a company tour.
However, they show the person around the company they think is a better fit.
8. Signs You Didn't Get The Job After Interview – You Were Asked Easy Questions.
If you were asked simple questions, you might find it useful in the beginning. But when an interviewer asks one-sided queries and doesn't go into detail.
It means they aren't interested to hear your answers and tries to cut it short.
On the contrary, a meeting that seems like an interrogation is a good sign. Companies ask in-depth questions about family and background when these are interested.
Showing interest in personal life is a vital sign they want to know you beyond the profession.
9. You Didn't Get A Notice On What To Expect Is A Strong Sign.
Interviewers make it very clear if they are interested in proceeding with you. Also, they are on a hunt for suitable candidates as you're on your job hunt. And they don't want to miss any chance.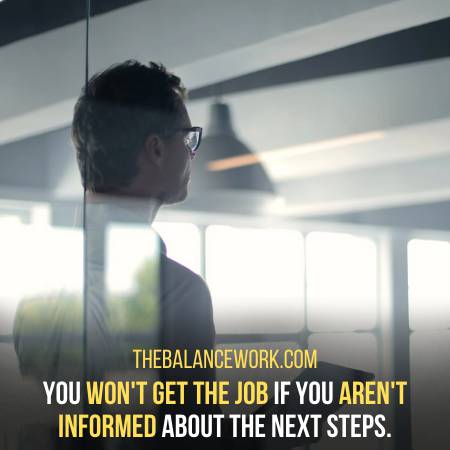 If your interview were right, you'd probably get informed about the next steps.
But if you're left wondering what's next, then you aren't considered for the position.
10. One Of The Signs Is They Mentioned You As Overqualified
One of the reasons why people don't get selected is they're considered overqualified.
Yes, you read it right! A candidate can get rejected because he is overqualified for the position.
That's because the company is looking for less experienced people who are cheaper to hire.
So if the interviewer mentions you in such a way, then you won't get the job.
11. They Didn't Introduce You To Others.
Your simple interview turns into a big meet and greet, and you get to meet other members. So you already know your teammates for better future performance and coordination.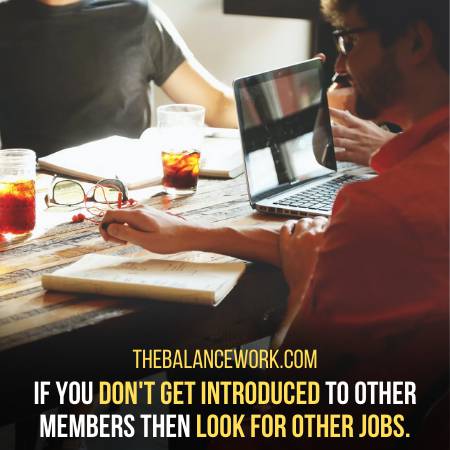 If it happens, then it's a positive sign that you left a good impression.
On the contrary, if you are kept shut out from the company and seated in a meeting room. Then you're probably going through a bit of bad luck.
If you didn't get introduced to the critical members, then they didn't see you worth mentioning.
12. They Are Still Looking For Other Candidates
It's a bad sign when your interviewer says that they are still searching for other candidates.
Even worse, they mention the bunch of people as better in your comparison.
It all means that they are still looking for potential candidates. So they can hire the most suited for the role at the end of the day.
13. Signs You Didn't Get The Job After Interview – Not Calling Your References.
An interviewer won't waste his time contacting the references of a person who isn't fit for the job.
So an employer who looks at your background has already decided to hire you.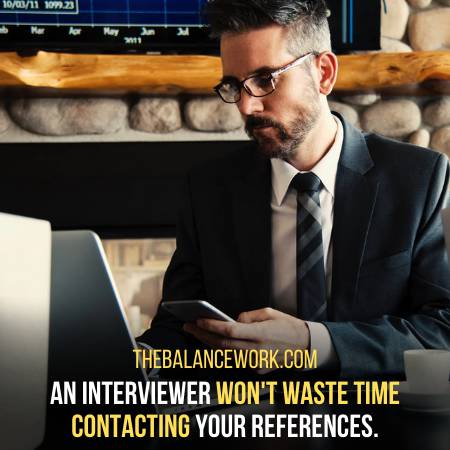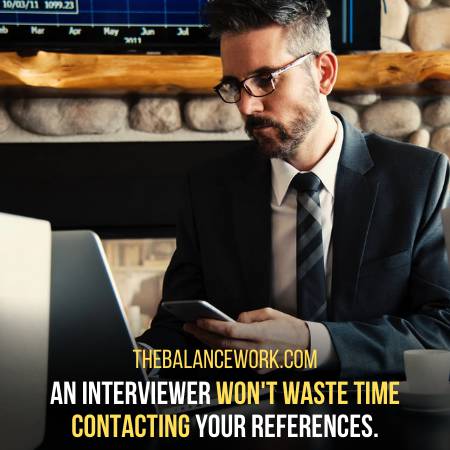 Not all companies will mention this step. But if the interviewer doesn't talk about your references at all. Then it means they have their eye on another candidate.
14. They Didn't Talk About The Salary.
The right time to talk about salary during an interview is the most debated question.
Some people say it's better to talk about it in the beginning. While others say one should wait for the real job offer to negotiate.
If you want to know what to expect from a job offer, pay attention to salary questions.
Your resume is probably not on the top of the pile if you don't get to answer such questions.
The interviewer won't waste his time negotiating with a candidate who's not up to the mark.
15. You See The Job Ad Is Reposted After The Interview
It's heartbreaking to find that they posted the job ad again after your interview.
Companies for sure close their ad postings after they've found a suitable candidate.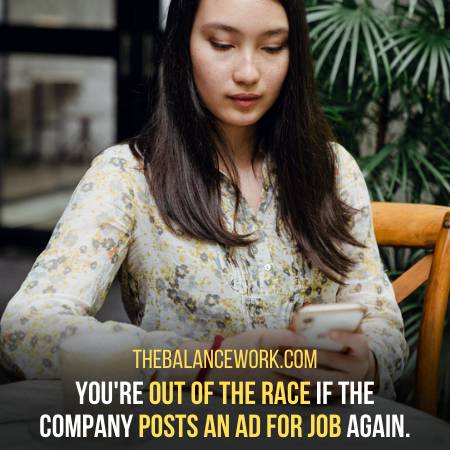 So when the company posts the ad for the same position you interviewed for, it's a tell-tale sign.
The company didn't find its match, and you are probably out of the race.
Frequently Asked Questions
Do Employers Let You Know That You If You Didn't Get The Job?
Yes, some companies do inform their candidates about the rejection from the job. But sometimes, you don't hear back from an employee after your interview. If it happens, then your job application might have lost in the job search black hole.
What To Say When You Didn't Get The Job?
You can write a letter to the manager and say you're sad you didn't get the opportunity. But say congratulations for they've found the right match. Mention a thankyou at the end for letting you have the interview experience.
Is It Ok To Ask Why You Didn't Get The Job?
Suppose the Recruiter isn't telling you the reason behind not getting the job. You shouldn't call the interviewer. Because they aren't expecting to have the conversation, it will make them uncomfortable.
Is It Still Possible To Get Hired After Being Rejected?
Yes, it is possible to get hired by a company that previously rejected you for the job. There are many such stories, and it happens with many people in reality.
Conclusion
The decision to get selected for a job can never be in the hands of a candidate. But with these signs, at least you can be sure where you're standing in the crowd.
It will help if you research a company before going for an interview. It will help you to know about their generic questions asked in interviews.
You can also follow some online interview practicing tools to gain more confidence.
In the end, if you get rejected, remember that "When one door closes, many others will open."
Share your thoughts in the comment section below.
Last Updated on 3 years by Shahzaib Arshad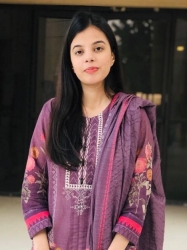 Latest posts by Assma Riaz
(see all)